A Guest Post by Leo Widrich
While writing this headline, I was a bit worried. Getting things "done" on Twitter can easily be misunderstood. After all Twitter is a place to build connections and meet with great new people. Optimizing things on Twitter has to be done with particular care I think.
Let me therefore introduce you to Buffer – a new Twitter App I have been using a lot recently which does two very important things for me:
It integrates seamlessly with my work flow and lets me share on Twitter in a consistent and time saving manner.
It doesn't turn me into an "auto-bot" throwing tweets around without any connection to my followers.
How does Buffer work?
The core functionality of Buffer (http://bufferapp.com) is super simple. All you do is you throw a few tweets in your Buffer and the App then schedules these Tweets for you throughout the day. That's it.
How will I get more done?
The great thing about Buffer is that you can add lots of tweets in at one point without fiddling with individual scheduling. Also you won't ever overwhelm your followers with too many tweets in a row.
The way I use it is like this. As Buffer comes with a browser extension (Chrome, Safari, Firefox), you can add tweets to your Buffer from any page you are on.
On top of this you can even add tweets from inside Google Reader, which is a big winner for me. Whenever I like an article I hit the Buffer icon and add it to my Buffer. Here is how this looks with one of Liz's posts:

Add tweets from anywhere on the web.
Make your Tweets truly unique
Now, there is even one more functionality I want to mention here, which allows you to make your tweets really stand out from the rest.
Whenever you read an article and find a good line, just highlight the text and then hit the Buffer icon, here is what happens: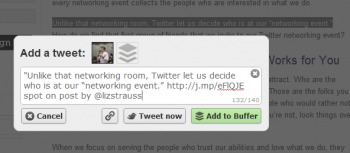 Make your tweets unique
Timing of your Tweets
By default Buffer will send out your tweets well spaced out over the day, so you will never have too many tweets sent in a row, flooding your followers with tweets.
Of course you can always go back to your home account, click "settings" and adjust the timing to your needs. You can add more daily tweeting time slots or decrease them. Oh and as of recently there is also a "Tweet Now" function.
Add tweets to your Buffer from your mobile
What also comes in very handy is the option to add Tweets to your Buffer from your mobile. Whilst browsing an article you can simply hit the "mail link to page" or similar button.
Then you add in add@to.bufferapp.com and voila you have one more tweet scheduled where the link is automatically shortened and the title is in the page: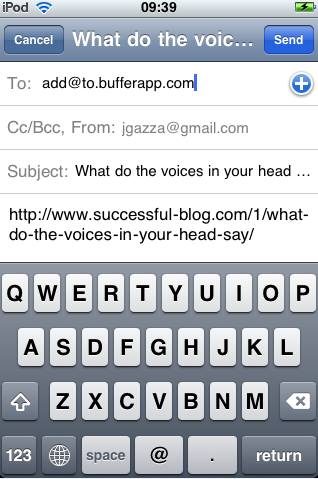 Caption: Add to Buffer from your Mobile
Wrap Up
Even though Buffer is such a simple tool, it helps me a great deal to stay on top of Twitter. I can add tweets from anywhere with just one click and will make sure to add all the great articles I am coming across each and every day.
I have also started to use the mobile function whilst waiting in a queue or whilst sitting on the Bus and it is a great time filler, which actually gives me some results
.
I hope you give Buffer a go. Would love to hear your views about it below.
Leo Widrich writes Tips for Twitter on his blog. You can visit his website, Bufferapp, or find him on Twitter as @leowid.
_________
Thanks, Leo, for checking out bufferapp.com for us!
–ME "Liz" Strauss
Work with Liz on your business!!