by Jen Thames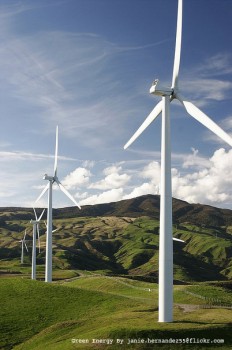 Image Credit:
Wind Energy by JanieHernandez
Green Marketing
A few days ago at a favorite deli there was a new sign. The sign said:
"We are now Powered 100% by Wind Energy,"
Unconsciously I gazed up. There aren't any windmills around here! I thought. Yet the message stuck and it made me think: If a deli that specializes in large greasy meatball sandwiches on soft white bread is promoting Green, maybe more businesses need to start using Green marketing.
These days Green marketing thrives far beyond co-ops and solar energy companies. Other businesses need to think about adding Green to their brands. Most importantly small businesses and large companies alike can all use Green to enhance customer relations. It's an easy way to connect to customers because the underlying message is, "We care about the same things you do," rather than, "Buy our product or service." Here are 6 ways to use Green marketing for a small business or a blog.
Incorporate a Green Spring Giveaway into a Mobile Smart Phone Promotion
Mobile marketing through smart phones is a fast growing online trend. According to Google, mobile searches with a local intent were up 400% between 2010 and 2011. Signing up for a location based service like Foursquare or WHERE and offering a free Green spring give away can draw customers into your store and improve your image at the same time. Make the promotion fun and tailor it your business. For example, a children's clothing store could have a free plant your own tree promo for kids while a bakery could offer a class on decorating spring cupcakes naturally without using food coloring. Get creative!
Offer an Online Green Promotional Product on Your Website
Ben and Jerry's Ice Cream invented this idea with their Rainforest Crunch Ice Cream. A percentage of sales were set aside to help nut-shelling cooperatives in the Brazilian Rainforest. Unfortunately, the company was stretching the truth a bit and they were forced to pull the marketing from their packaging. Ben and Jerry's is mentioned because Green claims need to be truthful with genuine intent or a promotional campaign can backfire.
Keeping Green product campaigns short is one way to get the message out, give properly and make money. In addition, time limited promotions encourage action. For example, "Buy from our website during the next two weeks and we will donate 25% of your order to Greenpeace." A further advantage of a short Green campaign is that you can pre-advertise and post-advertise the campaign online through the press wires. Charity and giving pieces are almost always picked up quickly and spread widely. Press wires can drive online traffic for months.
Think about incorporating Green into your Business Brand
Make Green a real commitment. Then methodically publicize your Green stand online through every channel possible. There are separate marketing channels for Green Businesses like Green Tweets and Facebook Pages. Like the deli above, you don't have to be a health food store to endorse Green and incorporate it into your brand image. Green makes people feel better about eating ice cream and 1000 calorie meatball sandwiches. Maybe it can work for your business too!
Use Green Promotional Gifts to Spread the Word
Traditional promotional gifts now come in a variety of Green alternatives. Green shopping bags and coffee carriers are an excellent way to get your brand out there while promoting a Green lifestyle.
Start a Green oriented blog, email newsletter and RSS feed to get your chosen Green message out.
The deli above chose wind energy so a blog about wind energy, clean energy and hiking (where you need to take sandwiches) would be fitting for them. Encourage customers to participate in the blog to lessen the writing work and gain fresh perspectives.
Turn Green Milestones into SMS events
Once the Green campaign is up and running use a quick messaging event to broadcast how well the campaign is doing or how well it went. This is a great soft-sell way to encourage further customer interaction and increase brand awareness and loyalty. For example, "Our store just surpassed our yearly giving goal to Greenpeace! A big Thank You to all our customer's- we couldn't have done it without you."
Success often increases with giving. Green is a wonderful way to thrive and give back not only to your community but also to the world.
—-
Thank you, Jen. Great green ideas!
–ME "Liz" Strauss
Work with Liz on your business!!