Influence and Attraction
Purpose, Mission, and Vision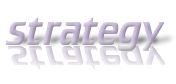 Whether we're working with a new businesses, a project, or a team that needs rebuilding, it's typical to start with purpose, mission, and vision.
You have to choose your future before you can make it happen.
Though we might not fully agree on the exact definition of those terms, a true strategy will investigate, establish, and articulate these foundational ideas of mission, vision, and purpose before …
before auditing market share and position;
before studying current trends, cycles, and conditions;
before making product or customer service decisions,
before choosing a core community;
before considering processes and systems.
This list represents the "who" "how" and "what" of a business.
What's the WHY of Your Business?
Making any key decisions without agreeing on mission, vision, and purpose is dangerous. It's an invitation to hidden assumptions, shallow thinking, and miscommunication. Without clarity, everyone who might help you, your team, or your business — employees, vendors, partners, customers, friends — will construct their own definition of your mission, vision, and purpose.
Next time you want to influence people to support your idea, project, or business venture, next time you want to attract people to participate with you, answer these four basic question sets:
Who are we? / What do we value?
Where are we going / what are we building?
How will we get there / how will we build it?
Why is this quest important? / Why are we uniquely suited to meet this call better than any other?
These foundational questions require priority attention because they build they WHY of your business.
They underpin your best true, compelling story — the calling and commitment — that fuels your business and the people who want to help it grow. Yet, the last of these, the "WHY" fuels is of what moves us and the people we serve to action.
The WHY of your business is the bedrock of influence and attraction.
The WHY attracts people who share your values and believe in what you're building.
The WHY calls the ideal employees, customers, vendors and partners to pitch in to help you build it.
The WHY is irresistible reason to join you in making something you can't build alone.
What's the WHY of Your business?
Be irresistible.
–ME "Liz" Strauss