The Book List: a weekly series by Teresa Morrow
I'm Teresa Morrow, Founder of Key Business Partners, LLC and I work with authors & writers to help them with their online book promotion and marketing. As part of my job I read a lot of books (I love to read anyway!).
The books in The Book List series will cover a range of topics such as social media, product development, marketing, blogging, business, leadership, organization, career building, finance, networking, writing, self development, and inspiration.
'42 Rules for your New Leadership Role' by Pam Fox Rollin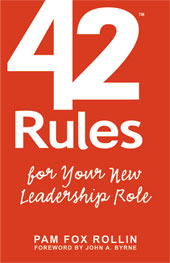 "Pam gives us that rare gem of a book—the perfect blend of proven tactics solidly grounded in the latest research. 42 Rules for Your New Leadership Role offers smart, busy leaders the proven mindsets and
practical to-do's to make their strongest start as they rise in the leadership ranks. She also provides great tips on leading change across your organization. Refer back to the book often, and take every
chance to hear Pam speak about leadership."
Sharon L. Richmond, Director, Change Leadership Center of Excellence, Cisco Systems
"Pam and I met 10 years ago when we started our coaching company. Since inception Pam has been one of our most effective and loved coaches. Her clients love her because of how she helps them reach
the heights they were capable of. 42 Rules for Your New Leadership Role represents the best of what she has learned over the years. Buy this book, and expect it to change your life!"
Scott Blanchard, Executive Vice President, The Ken Blanchard Companies

Book Excerpt
Now that you're stepping up to a new leadership role, you're far less likely to receive useful guidance than earlier in your career. This holds true whether you are in your first manager role or an experienced leader joining top executive ranks. I find this problem is especially acute for new Directors and VPs. You've been hired at these levels for your track record, so people assume you know what to do.
However, just because you were successful in your last role doing or managing marketing, accounting, engineering, or whatever you did, doesn't mean you know how to make a strong start at your next job.
One-quarter of senior executives promoted from within fail in the first 18 months; one-third of outside hires fail. Many flame-outs can be traced to missteps during their first quarter. More importantly, for the 60–75 percent of leaders who survive into the second year, their effectiveness and trajectory are powerfully affected by choices made as they start.
If you're like the technology leaders, marketing executives, and top teams I coach, you might notice how easy it is to become so caught up in fighting fires that you forget to shut off the gas. Or, you suspect you're lousy at certain aspects of leadership, so you ignore them and hope they won't bite you. Or, maybe you never learned the rules in the first place! Leadership is an apprenticeship craft. With the trend toward more "flat" organizations, your boss may be stretched so thin that he/she can barely advocate for your team, let alone mentor you. Welcome to your new leadership role—you have a bigger job, in a tough climate, with very little support!
I wrote 42 Rules for Your New Leadership Role to fill that gap.
Based on two decades of coaching senior leaders, helping executive teams craft strategy, and guiding Stanford MBAs, I describe a proven set of approaches to teach you what you've yet to learn, remind you of what you already know, and inspire you to become the best leader you can be in this job…and your next…and your next.
As you read this book, take what I say as a starting point for your own good thinking. Adjust what you find here to serve your team's needs, the market conditions, the cultural context, your goals, and your personal leadership approach.
The intense learning curve and unfamiliar environments of a new job make it difficult for your brain to consider options and make decisions as well as you usually do. When brains are overloaded, people tend to rely on what they've done before, even when that didn't work very well or is out of place in the new context. Ironically, this tunnel vision and rigidity is especially true of leaders who have experienced success—people like you who have been promoted or recruited for a new role.
So use this book to prompt what you want to do at each phase of your start. Ask yourself what from this material will be useful to you in the week ahead. See what results you're getting, and come back to this process at the end of the week. Consider the rules, make up your own mind, act, observe, and reflect. Repeat. Succeed.
About Pam*:
Pam Fox Rollin coaches executives to succeed at the next level. She specializes in helping functional leaders who are taking on broader roles with greater strategic opportunity and management responsibility. Pam is also known for expert work with assessments (personality, leadership, 360s) and for designing and facilitating unusually productive leadership offsites. Her company, IdeaShape Coaching & Consulting, advances leaders and teams at top and emerging Silicon Valley and Bay Area companies in biotech, technology, and consumer products. Before founding IdeaShape in 1999, Pam consulted with Bain & Company and Accenture; her MBA is from Stanford, where she often serves as a Guest Fellow, helping top MBA candidates develop their leadership skills.
You can order a copy of '42 Rules for your Next Leadership Role' online at Amazon. *this information came from Amazon.
Next, I would like to introduce you to a book on the business book list on Amazon: ' The Little Book of Leadership: The 12.5 Strengths of Responsible, Reliable, Remarkable Leaders That Create Results, Rewards, and Resilience' by Jeffrey Gitomer.
'The Little Book of Leadership by Jeffrey Gitomer
This book came out recently on the new releases (business) list on Amazon. You can also check out my recent blog post on this blog about his book, Social Boom.
The Little Book of Leadership: The 12.5 Strengths of Responsible, Reliable, Remarkable Leaders That Create Results, Rewards, and Resilience (Hardcover)
"As with Gitomer's other books, this one is packed with bite-size gems that are worth living by, and learning from… this time on leadership. One of the core tenets he starts with is discussing how leadership must be earned (and how to get there), by one's actions and not just conferred respect via position. He makes you look inside yourself to see where you're providing authentic, likable leadership in a way that hits home.
Like his other books, all of which I've read at least a few times (thanks for the ribbon in these, too, a nice touch to keep 'em from getting dog-eared), this one makes you think about how others perceive you. And how to build a personal leadership philosophy, backed by actions, attitudes, belief and effective communications with others, that really makes sense.
Above all else, I like this book because it models how to develop personal responsibility for providing leadership (which in a way we all need to study, to be leaders of our families, in communities, as entrepreneurs, as well as formal managers and execs), and the checklist of activities and "things to keep in mind when leading others" that can make a big difference.
On a last note, I will say I'm very glad Gitomer's gone beyond just sales training to correctly teach and show us all about how to develop a winning attitude, how to communicate and brand/position ourselves effectively, how to lead successfully and live a life worth living. He's always been a great role model — thanks Jeffrey for all you've done for us. It's sincerely appreciated. And much-needed in these dark times… you're a beacon. Thanks."
Kenneth Calhoun – Amazon Reviewer
About the Book
A new and impactful book on leadership from the perspective of leaders
What makes a leader relevant? It's not their place of employment, job title, experience, or status in life?it's their resilience. The true measure of any leader is his or her ability to react based on past experience and gut feelings, respond in real time to current circumstances, and then to recover quickly and move on with new lessons learned. The Little Book of Leadership combines classic style with the latest innovations to challenges the reader to self-evaluate every facet of their leadership, coaching, and communication abilities in order to better formulate what actions can be taken to improve their natural skills. Ideas and answers are provided for every challenge.
* Chapters include information about the 12.5 leadership strengths: From insights to legacy and every element in between. Morale, Attitude, Resilience, Opportunity, Guts, Measurement, Coach, Celebration, Next-level, and Lost Secret of Leadership
* Foreword by Dr. Paul "Doc" Hersey, creator of Situational Leadership
* Other books by Gitomer: The Sales Bible: The Ultimate Sales Resource, Revised Edition, also by Wiley, The Little Red Book of Selling (Bard Press) The Little Gold Book of YES! Attitude (Pearson)
Whereas other books rely on theory or philosophy, The Little Book of Leadership takes leadership into the real world of business, providing proven methods for becoming a successful leader.
About Jeffrey*:
AUTHOR. Jeffrey Gitomer is the author of The New York Times best sellers The Sales Bible, The Little Red Book of Selling, The Little Black Book of Connections, and The Little Gold Book of YES! Attitude. All of his books have been number one best sellers on Amazon.com, including Customer Satisfaction is Worthless, Customer Loyalty is Priceless, The Patterson Principles of Selling, The Little Red Book of Sales Answers, The Little Green Book of Getting Your Way, The Little Platinum Book of Cha-Ching!, and The Little Teal Book of Trust. Jeffrey's books have appeared on best-seller lists more than 750 times and have sold millions of copies worldwide.
*courtesy of book website and/or Amazon
You can purchase a copy of 'The Little Book of Leadership' at Amazon.