THEN We Will …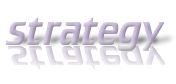 During the Q&A of his interview at SOBCon NW, I asked Rick Turoczy (@Toruczy) of the Portland Incubator Experiment, "What seems to be the single problem that most startups encounter?"
Rick's response was telling. He said that the young companies he worked with were clear on their vision and their mission. They knew were they were going … Where they got stuck was figuring out the first small step to get there.
Are you surprised by that? I'm not.
The act of paying attention to what relates to our mission and vision gets us attuned to the wide range of options that could relate to our end goal.
We think of our goal as THEN.
THEN we'll be there.
THEN we'll have what we've earned.
THEN we'll know.
We can't know what things will be THEN, but we know all we need to know about now.
But strategy is a function of NOW.
What is our position NOW?
What are the conditions NOW?
What is the opportunity NOW?
How to Choose the Easiest, Fastest, Most Meaningful Next Move
Choosing that next step often seems a problem. We listen. We follow links through our networks and systems. If our minds and hearts are open, we find a world filled with possibilities. We pay attention to learn as much as we might. We gather up information, ideas, and options. Then comes the moment to move. We get stuck in too many possibilities. Big ones, little ones — which to do?
To head in our best direction, we have to do the opposite of listening and paying attention. NOW that we've gathered the immediate information, it's time to pull it in. It's time to narrow and focus. It's time to choose the best possible easy move to advance now. The small opportunity that fits us most naturally is the one that easiest, fastest, and most meaningful to reaching our biggest, most important goal.
Here's how to choose the easiest, fastest, and most meaningful next move:
Use your vision and mission to set your direction. Have a clear sense of where you want to be and why you want to be there.
Use the information you've gathered by listening and paying attention to know your position — where you are now. Tell yourself the truth. Every position has advantages. Yours has advantages unique to you.
Study the information you've gathered to understand the conditions under which you're working. Look for openings that lead in the direction you want to go. You, your team, and your mission fit perfectly into openings right next to you. Look to do more for the people who love what you're doing. Invite them to help you figure out what would be the easiest next small thing for you to do.
Identify the easiest small opportunities and openings that move you forward by using these criteria. They will be those that

Align with your long-term goals.
Match with your values and culture.
Leverage what you and your team have already accomplished — skills, talents, and successes.
Make changes work for you.
Disperse the work to many best sources. (Do that thing you can get started and pass on so that another person is working while you work on the next one.)
Look for the position adjacent to the one where you're standing. The best new positions look only slightly different than the position where we are right now. By moving into that slightly new position — serving the closest friends of our customers or adding a new flavor to the same offer — we built strength on what we already own. By keeping an eye on our vision at the same time as we make these tiny moves, we not only keep focus, but also bring our community of customers with us in a logical, predictable fashion that is easy to invest in, because it's easy to trust.
Each small decision creates new opportunities that are unique to our position and the skills we bring. In that way, we create a path that is ours and impossible to replicate with authenticity.
We do what we are rather than are what we do.
How do you filter and narrow your options when you choose your next move?
Be irresistible.
–ME "Liz" Strauss
Work with Liz on your business!!