Do Worry, Do Something Anyone Can Do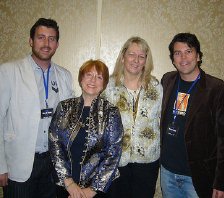 When I was at WordCamp LasVegas, I met the guys from Voodoo Ventures. That's a picture of Gerard Ramos, Lorelle VanFossen, me, and Chris Schultz after we spoke — all of us a presenters and in the conversation I'm about to share.
Chris, Gerard, and I sat for a couple of hours talking talking business, strategy, brands, and futures. In the course of that conversation, I was relentlessly asking questions, as I'm prone to do when I'm in that mode.
One series of such relentless questions was this one.
What do you bring that others don't? Why will I be grateful that I'm working you and no one else? We already know that your work is quality, your people are top professionals, and you solve problems without causing them. What's your secret ingredient that no one else does like you?
Chris Schultz [please know I'm paraphrasing] said
I've got 80% of the competition beat from the start, just because I show up. I answer every email — AFTER I read them to end. I return phone calls. I keep my promises. I do what I say I will. I listen and respond. And I like what I do and the people I do it with.
That's a difference I'd pay for at most any place I do business with.
What about you? How easy is it to find service like that?
–ME "Liz" Strauss
Work with Liz!!