A Weekly Series by Teresa Morrow
I'm Teresa Morrow, Founder of Key Business Partners, LLC and I work with authors, writers, speakers and coaches. As part of my job I read a lot of books. I am here to offer a weekly post about one that I am working with and one I have put on my reading list. The books will cover topics such as social media (Facebook & Twitter), organization, career building, networking, writing and self development and inspiration.
#MOJOtweet
This week I would like to start with a book I've read and working with by Marshall Goldsmith, author of #MOJOtweet published by ThinkAha books.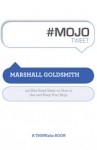 In this fast paced world we live in and the need for great information that will lead us to action, is sometimes hard to find. Well, in the ThinkAha book series, this problem is quickly resolved by the format used.
#MOJOtweet is written in the template of around only 100 pages and formulated about tweets (also known as AHA's) in 140 characters. 
You may be asking what is Mojo? Mojo is the moment when you do something that's purposeful, powerful and positive and the rest of the world recognizes it.
Mitchell Levy, CEO of Happy About, Inc. and publisher of ThinkAha books, Â summarizes the essence of the book in the forward, " Mojo is that missing ingredient that is between you and your life filled with meaning and happiness. #Mojotweet provides that in bite-sized packages."
Below are just a few of the wise, helpful and inspirational aha's I found in the this informational compact book, #MOJOtweet.
~ We run everything through two filters: short-term satisfaction (or happiness) and long-term satisfaction (meaning). –>So true! When I first read that I thought, "no I don't do that", but when I thought about it again, I realized I certainly do.
~ Mojo is infectious. When people pass their positive spirit onto us; we feel like passing it back. –>Again, great insight in such a short statement. Positive breeds positive. If I am around a positive person, my outlook will change for the better which I will radiate to others around me.
~ When measuring your Mojo, do so in the immediate present, not in the recent past or vague future.–>this is something I struggle with sometimes. I worry about things from the past or worry how to correct things before they even get here…not to concentrate on what is in the now.
You can order your copy or download the ebook of #MOJOtweet.
Marshall Goldsmith, is America's preeminent executive coach. He is among a select few consultants who have been asked to work with more than sixty CEOs. His clients have included many of the world's leading corporations. Goldsmith has helped to implement leadership development processes that have impacted more than one million people around the world.
He has a Ph.D. from UCLA and is on the faculty of the executive education programs for Dartmouth College and the University of Michigan. The American Management Association recently named him as one of fifty great thinkers and business leaders of the past eighty years. Read more in his new book, MOJO: How to Get It, How to Keep It, How to Get It Back if You Lose It.
Crowdsourcing
The book on this week's on my reading list is
Crowdsourcing: Why the Power of a Crowd is driving the future of business by Jeff Howe.
The book focuses on describing how to crowds are creating new sources of value than the specific ways to tap into that value. Chapters 1 through 5, the first half of the book, concentrates on providing examples of the crowd sourcing phenomenon. The second half focuses down on the impact of crowds to economic and business organization.
My thoughts: I believe there has always been an influence of the crowd.I remember when my mother would call her friends for advice or ideas for a new recipe, how to decorate, or who her friend used as a dentist. Society has drawn about the advice and influence of others (the crowd) for many years, however, I believe with the invasion of social media such as Twitter and Facebook, the importance of the crowd (crowdsourcing) is stronger than ever.
Jeff Howe is a contributing editor at Wired Magazine, where he covers the media and entertainment industry, among other subjects. In June of 2006 he published "The Rise of Crowdsourcing" in Wired. He has continued to cover the phenomenon in his blog, crowdsourcing.com, and published a book on the subject for Crown Books in September 2008. Before coming to Wired he was a senior editor at Inside.com and a writer at the Village Voice. In his fifteen years as a journalist he has traveled around the world working on stories ranging from the impending water crisis in Central Asia to the implications of gene patenting. He has written for Time Magazine, U.S. News & World Report, The Washington Post, Mother Jones and numerous other publications. He lives in Brooklyn with his wife, Alysia Abbott, their daughter Annabel Rose and son Phineas and a miniature black lab named Clementine.
You can pick up your copy of Crowdsourcing on Amazon.
I hope you have enjoyed this new weekly blog post. Feel free to share your thoughts with me as I would be open to read them.