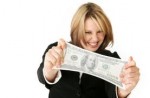 I have a friend who I've known for nearly two decades and I can say without a doubt that he'd give you the shirt off his back.
That being the case, there is one action, or I should say lack thereof on his part, that makes me shake my head.
Not only did he take a major pay cut several years ago, he's afraid to ask his boss for a raise.
Now granted, we all know that times are tough and there remains much debate as to whether or not we're headed for another recession. Still, a man has to eat and keep a roof over his head, so asking for a raise is something that should never be out of the question.
As it turns out, he and I have had this discussion numerous times and he continues to claim that he won't get the raise, so why bother wasting his time. Okay, I know I need to keep my nose out of other individual's business, but it pains me to a see a good friend give up the fight, if in fact he ever fought to begin with.
While there is a good chance knowing his boss he will not get the raise, what does it hurt to discuss it, especially since it has been several years since he saw an increase in his hourly rates?
This friend works as hard as anyone I know, and he certainly is not being properly compensated for his efforts. In essence, he is afraid that he'll get the boot if he goes to his boss seeking a raise. While I respect and understand where he is coming from, it is something that I would handle differently.
That being said, how should you go about seeking a raise when in a similar situation?
Among the things to consider are:
What is a fair and reasonable request? – For many employees, they do not know what their value is to the company, including when and how to seek a raise. Ask around to people in comparable positions as to what they sought, do some online research as to what the typical salary is for your kind of work, etc. Most importantly, get a handle on the company's financial picture and if now is the appropriate time to seek more money;
Rehearse your sales pitch – It is important to not wing it when talking to the boss regarding a raise. Just as you likely rehearsed your job interview, it is a good idea to prepare for the request to get a raise. If you have a trusted family member or friend who will give you an unbiased reaction, make your raise pitch to them and get feedback;
Take a look back at recent history – When it comes to getting a raise, timing is often the key to success. In the event the company suffered a financial setback recently or you had an issue with a co-worker that got around the office, don't exactly go rushing in the boss' door for a raise;
Document your achievements with the company – While many experts will say that it is best to wait at least a year after you've been hired to seek a raise that does not mean you can't be compiling your achievements since you started your job. Without recording that you showed up for work on time for three months in a row, take note of any special accomplishments like spearheading a project, overseeing efforts to save the company money, etc. The achievements are good tools to use in your favor when you seek the salary increase;
Be prepared for possible rejection – Asking for a raise is a little bit like asking someone out on a date. You may come out a winner or you may go home rejected. There is typically a 50-50 chance you will get the raise, so don't pout if the outcome is not good. The boss may just be delaying giving you a raise until things are a little better financially at the company, so don't suddenly tail off on your workload etc. or office morale if the raise is denied this time around;
Show appreciation either way – Given the fact that 2011 remains an employer's market, it is important to show appreciation to the boss for having the raise discussion in the first place. Companies are not obligated to give out raises on a regular basis, so appreciate them when they come along.
Asking for a raise is something that most employees equate with going to the dentist or having to spend time with their mother-in-law.
If you're in the position where it is time to seek a raise, make it your job to handle it the right way so that your job is never placed in jeopardy.
Photo credit: ledgerlink.monster.com
Dave Thomas, who covers among other subjects' background checks and business credit cards, writes extensively for Business.com, an online resource destination for businesses of all sizes to research, find, and compare the products and services they need to run their businesses.