The Book List: a weekly series by Teresa Morrow
I'm Teresa Morrow, aka The Author's Cheerleader and I work with authors & writers to help them with their online book promotion and marketing. As part of my job I read a lot of books (I love to read anyway!). The books in The Book List series will cover a range of topics such as social media, product development, marketing, blogging, business, organization, career building, finance, networking, writing, self development, and inspiration.
'Social Media Geek-to-Geek' by Rick & Kathy Schmidt Jamison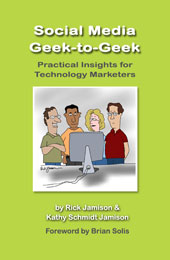 "Social Media Geek-to-Geek is a great resource for technologists who use social media to communicate and share real-time information. In our business environment, where transparency and relevancy rules, it's the perfect time to equip geeks alike to join the conversation and have fun!"
Michael Brito, VP, Social Media, Edelman Digital
"A fresh view, based on up-to-date marketing experience, and particularly welcome at a time when the ground rules are changing so quickly."
Andrew Betts, Technical Sales & Marketing Consultant, Iconda Solutions
In Social Media Geek-to-Geek, authors Rick Jamison and Kathy Schmidt Jamison explore the increasingly vital role that social media plays in technology marketing efforts. They lucidly share how you, in a tech marketing strategy, analysis or implementation role, can harness its energy for your company. Peppered with actionable wisdom from start to finish, this enlightening book kicks off by highlighting a truism that is often overlooked–the fact that social media has been made possible purely by geek innovation.
Geeks have created this unique, powerful medium of communication just as they have created and enabled every digitally-based form of creative expression that makes social media interesting, engaging and popular.
Entertaining and informative, the authors of Social Media Geek-to-Geek very rightly point out that there is no rulebook or manual or IT department for social media. But the incisive and handy volume they have put together surely comes close to filling that gap.

About Rick:
By day, Rick Jamison is disguised as a mild-mannered corporate communications contractor. But at sundown, he reveals his real superpowers as author and cartoonist. Part illustrator, part subject clarifier, and part Big
Business underbelly tickler, his words and cartoons enlighten, enliven, enrich, entertain—and, from time to time, even educate.

About Kathy:
Kathy Schmidt Jamison is a blogger, photographer, and humorist. She is Director of Strategic Communications at Synopsys where she's privileged to work directly for and with one of the finest übergeeks on
the planet, Chairman and CEO, Dr. Aart de Geus.
You can purchase your copy of 'Social Geek-to-Geek' either at Synopsis Press or on Amazon.
'Launch: How to Quickly Propel Your Business Beyond the Competition' by Michael Stelzner
"Launch is your road map to success in an ever-changing world." Guy Kawasaki, author of Enchantment –from book
"What Stelzner shares here is proven! He's already built a community that propelled his brand not only beyond the competition, but ahead of an entire industry." Brian Solis, author of Engage! –From book
About the Book
If you've been let down by the undelivered promises of marketing, this book is for you. Launch reveals a new way to grow your business that involves focusing on the needs of others, giving gifts, working with outsiders, and restraining your marketing messages. These principles are precisely the opposite of traditional marketing. Yet they work. And they are the future. If you follow the formula outlined in this book, you can attract countless customers and prospects, resulting in amazing business growth.
This book will show you how to:
Create highly sharable content that meets people's needs
Identify and work with outside experts, many of whom will gladly promote your content
Attract and retain raving fans that will help your business grow
Creatively market and sell to people who will gladly purchase your products and services
Launch isn't like other marketing books. Rather than making keen observations about others who've achieved success, the ideas and principles in this book were developed, refined, and practiced by the author to great success.
About Michael:
Michael Stelzner is the founder of SocialMediaExaminer.com (one of the world's largest business blogs), author of the books "Launch: How to Quickly Propel Your Business Beyond the Competition" and "Writing White Papers: How to Capture Readers and Keep Them Engaged." Michael is also the man behind large summits, such as Social Media Success Summit.
Twitter: http://Twitter.com/mike_stelzner
Facebook: http://Facebook.com/smexaminer
You can purchase your copy of 'Launch: How to Quickly Propel Your Business Beyond the Competition' on Amazon.