Community Raises People Up
At any moment, most of us are doing fine, but a few are feeling the hill's too high or the burden's too heavy. So those who can reach out to those who've lost the spirit.
At times like that, generous folks reach out to show us how to push through and climb up. It's hard to know which reach will make a difference.
People get back on track and move forward, keeping their eye on the goal.
Sometimes on the way to that goal people get impatient, feel deprived, or forget the folks who helped.
Then someone generous of spirit stops long enough to say something like this
I wouldn't have pushed through if you had not been there.
It's a gift to hear that.
The generosity connection lifts us higher.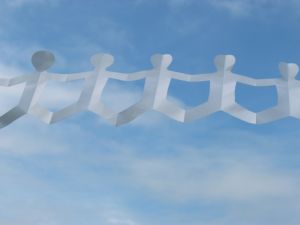 Tell someone …
you're there to help.
Thank someone …
who's been there for you.
I love you all.
–ME "Liz" Strauss
image source: sxc.hu gwyther77
Work with Liz!!
If you haven't had a chance yet, add your $500 wish to the list. I hope you win!