How to Blog Series
by
Ali Abbas
Do you want more people to read what you write?
Do you want more subscribers to your blog?
Write irresistible headlines!
It's that simple.
5 Powerful Tips For Writing Irresistible Headlines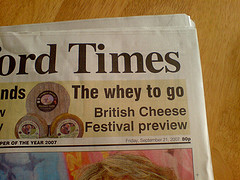 Image:
Garrett Coakley
Writing headlines is a craft; practice, and practice more to sharpen your skills.
In addition to practice, read about writing headlines regularly to make sure your skills don't get rusty.
This post offers 5 powerful tips about crafting headlines. You might already know some of these, but one or two will surely make you slap your forehead. Others might sound absurd. But believe me they will go a long way if you employ them.
1. Write the headline first
The temptation is to write the headline after you've written the whole piece. Why not – you can write a better headline when the copy is there in front of you, right?
Wrong!
Headline is a promise.
You make promises before you fulfill them. Your headline is the same.
If you save the headline for last, after writing the monstrous copy, you'll want to write the darn headline quickly and be done with it. That's not how to blog effectively.
If the headline doesn't get the required attention, it won't bring the desired results — the people who are perfect for what you offer.
2. Highlight the biggest benefit
Most readers don't come to find out what you do or why you do it. They are interested in things that make their life easier and better, save them time, make them money, make them healthy or beautiful.
Tell readers in the headline what your text will do for them.
3. Length doesn't matter
Many so-called gurus preach that shorter headlines work better.
Nonsense!
14-word headlines can get as much readership as 3-word headlines.
Length isn't as important as getting your message across.
It, however, is better to keep the title under 70 characters (including spaces) on the internet. Longer titles get truncated by the search engines which can ruin your most powerful headline.
4. Don't try to be tricky
Don't try to be over smart when writing your headlines. Hundreds of thousands headlines are competing against you. Readers are too busy to figure out what the heck you are trying to say with unfathomable mumbo jumbo. They will simply click another link — one with a clear benefit.
5. Don't write incomplete headlines
I had a personal experience with this a few days ago.
Traffic was jammed and I, being bored to death, was looking indifferently at the surroundings. My eyeballs got fixed at two advertising posters of rival two telecommunication companies, posted on wall end-to-end. Their headlines read as follows:

I. The Treasure (Say by Company A)
II. Make Free Calls For The Next 24 Hours (Say by Company B)

I ignored the first headline wondering "a telecom company and treasure, what the heck" and the traffic had just started to move slowly, so I didn't have the time to read the rest of the ad.

The second headline was imprinted on the back of my mind. Later on, I came to know that the Company A offered better value, but by then I had already purchased the services of company B.
Never use headlines that require reading the rest of the advertisement to be understood. Readers will quit at that very point. They have no reason to read on. Readers on the internet read too quickly to keep on reading to find out what you are trying to say.
What it all boils down to is…
To apply the marketing wisdom of P.T. Barnum:
"You can't please all of the readers all of the time; you can't please even some of the readers all of the time, but you really ought to try to please at least some of the readers some of the time."
The sole purpose of a headline is to attract people who are most interested in your offer. Follow these 5 powerful tips for writing irresistible headlines. Ignoring them is simply wasting your time as well as money. Prove it to yourself!
What rules do you follow when writing headlines? Share in the comments.