By Lindsey Tolino
The first time I heard it was when I was in middle school. On the first day of school, our teacher said it with little emotional engagement. He coupled it with a remark that at some point, maybe a few weeks in, he would eventually have everyone's down. I remember it rubbing me the wrong way even then.
"I'm terrible with names."
I've always felt like someone devalues me when they say it. They don't mean to. They are citing an insufficiency in themselves. I know that.
But when someone tells you that they're terrible with names, they are essentially saying that you aren't important enough to remember your name.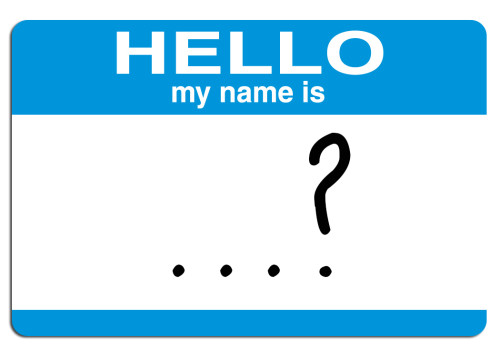 I know this because you know whose names I don't forget? My husband's. My dog's. My family's. My friends'. People I want to get to know. People whose work I extol.
And just so you know, I'm terrible with names.
I'm usually selfishly worrying about what's in my teeth and I don't catch what you said. "Did she say Sheryl or Carol?" I hate when I do that.
However, I shouldn't tell you that I'm terrible with names simply because I'm bad at listening to you. If I do tell you that, it's like I think that it's an acceptable character trait. And I don't think it is. I want to get better at it. I want to listen well and show people I value them.
Though forgetting names shouldn't be acceptable, it does show that you're a normal human if you struggle with it. But you don't want to be seen as normal, right? You want to be remarkable, so don't identify yourself with the cliché of being terrible with names.
If you can't remember someone's name, simply tell them how you remember them, but that you can't recall their name. It will at least make them feel valued that you remembered them in some capacity and most people understand that names can be evasive at times.
If you just met them a few moments ago, you can simply apologize and ask for their name again. Just don't qualify the lapse in memory by saying you're terrible with names. No one wants to hear that.
We all want to know that we are valued. So let's not minimize each other by saying "I'm terrible with names."
Author's Bio: Lindsey Tolino is an intentional creative who helps make businesses better. She serves business owners with her words at ToBusinessOwners.com. Follow her on Twitter @LindseyTolino or connect with her on Google+.
Image info: Original royalty-free image from http://www.freeimages.com/photo/1428915