Twenty thousand bees were swarming just on the other side of the wall.
They were honeybees, and no real threat to our family, but it was pretty much my worst nightmare come true. As the beekeeper came and scooped them off into a cardboard box, his little boy stood next to him, completely unconcerned.
(This is an actual picture of the actual swarm of bees.)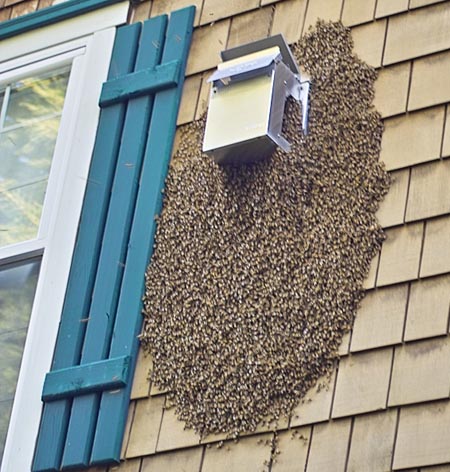 Many business owners and entrepreneurs feel the same way about sales that I do about bees. They approach it with stark, abject terror, or they try to get someone else to handle it. "I'm no good at sales."
First, Understand that Your Fear Isn't Rational
The most effective sales person is someone who is knowledgeable and passionate about the thing being sold. Guess what? That's you!
If you have the privilege of sharing your service or product with someone, remember that you're helping them. You're only going to gain them as a customer if you provide them with something they need. You don't need to be apologetic, you don't need to fret over your pricing, and you don't need to worry that you're "bothering" them if you follow up.
Don't Learn Sales, Learn to Connect with People
One reason why entrepreneurs or consultants fear sales is because it seems to be mysterious and difficult. It's no mystery. It's all about uncovering a human connection with the potential buyer.
Yes, you need to be able to articulate your unique value proposition, but it doesn't need to be a fancy, memorized pitch. Just ask them for their story, and then you get permission to share your story.
Enlist some Technology Tools
If sales isn't your primary function, it can be daunting to keep track of the contact information, background notes, and requirements of your prospects. Fortunately, there are a lot of inexpensive sales and CRM tools out there that suit the small business owner. Nimble is fantastic for keeping up social networking connections with your contacts, Nutshell has very good pipeline reporting, and OnePageCRM is a one-stop-shop for the sales process. Check them out and find the one that supports your organization's personality.
Get out of your comfort zone, and stop telling yourself that sales is scary. The next time a sales-related task comes up, use this visualization: you've just cooked a delicious meal, and the prospect is a hungry friend.
How would that visualization change the way you approach a "sales" call?