A Weekly Series by Teresa Morrow of Key Business Partners, LLC
I'm Teresa Morrow, Founder of Key Business Partners, LLC and I work with authors & writers to help them with their book promotion and social media marketing. As part of my job I read a lot of books (I love to read anyway!).
This week I will be highlighting two books; one is with an author I am working with and the other is on my "reading list".
The books in the Social Media Book List Series will cover a range of topics such as social media, product development, marketing, blogging, business, organization, career building, finance, networking, writing, self development, and inspiration.
'Fast Track Guide to a Professional Job Search'
by Joanie Natalizio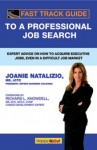 "Joanie Natalizio's Fast Track Guide to a Professional Job Search offers extremely timely and practical advice for all stages of a job search. Her no-nonsense approach will save time, reduce stress and, most important, provide results. The 'Take Action' feature of her book will get to the core of what needs to occur while one is in transition. Not only will the executive learn how take charge of his or her job search with this action-centered book, he or she will learn to navigate a myriad of career challenges one faces, especially in a difficult economy."
Victor C. Massaglia, M.A., Career Counselor, Career Center,
University of Minnesota Law School
"The ultimate guide book on how to conduct a professional job search from beginning to end. Each chapter provides you with 'take action' steps and insider 'hot tips' so you'll be sure to get everything you need to know to conduct a successful job search. A book no professional should be without."
Barbara Rosenzweig, Owner, Dental People, Inc.
About the Book*:
'The Fast Track Guide to a Professional Job Search' was written to take the guesswork out of finding the right executive-level position for you. Serving as your handy guide and indispensable companion, it contains everything you need to drive your job search and career forward. It takes you all the way from setting your career path, through the planning and strategizing, the execution, the emotional rollercoaster, and all the way to offer evaluation and acceptance.
Written by Joanie Natalizio, a professional executive coach who steers a successful business coaching practice, 'The Fast Track Guide to a Professional Job Search' teaches you to distinguish yourself, present your unique strengths and capabilities, and make sure an offer is a good fit for you before you accept it. All through the book, the easy to use checklists make sure you stay on track. How to create a professional biography and tips on evaluating compensation packages are just a few of the many executive job search topics discussed.
Joanie reveals little known tips traditionally restricted to executive career coaching sessions, so that you have an extra edge in your job search. With 'The Fast Track Guide to a Professional Job Search' at hand, you can proceed in your executive job search with clarity, competence and complete confidence.
About Joanie*:
Joanie Natalizio, President of Defero Business Coaching and Seminars, has over 15 years of combined experience in both business and executive coaching, and has worked at some of this country's top Fortune 500 corporations.
Along with her corporate experience, Ms. Natalizio holds a Master's degree in Counseling, and is an accredited Job and Career Transition Coach and a Certified Myers-Briggs Type Indicator Practitioner. She also serves as an Adjunct Professor at Anoka Ramsey Community College teaching Career Development courses. Her specialty seminars including employee training and development, change management and one-on-one executive coaching make Joanie Natalizio one of the Twin Cities' most respected business advisors in the areas of professional executive development.
You can purchase a copy of 'Fast Track Guide to a Professional Job Search' online from the publisher site or on Amazon. *this information came from the author's website.
Next, I would like to introduce you to another book on the business book list on Amazon and on my reading list: 'Enchantment'.
Enchantment
by Guy Kawasaki
"Kawasaki provides insights so valuable we all wish we'd had them first."
-Robert B. Cialdini, author of Influence: Science and Practice
"Guy teaches you how to pull gems from people's hearts and minds and how to become an effective practitioner of life's crucial domains. Clearly, I taught him well."
-Dr. Phil Zimbardo, professor emeritus of psychology, Stanford University
About the Book*
Enchantment, as defined by bestselling business guru Guy Kawasaki, is not about manipulating people. It transforms situations and relationships. It converts hostility into civility and civility into affinity. It changes the skeptics and cynics into the believers and the undecided into the loyal. Enchantment can happen during a retail transaction, a high-level corporate negotiation, or a Facebook update. And when done right, it's more powerful than traditional persuasion, influence, or marketing techniques.
Kawasaki argues that in business and personal interactions, your goal is not merely to get what you want but to bring about a voluntary, enduring, and delightful change in other people. By enlisting their own goals and desires, by being likable and trustworthy, and by framing a cause that others can embrace, you can change hearts, minds, and actions. For instance, enchantment is what enabled . . .
* A Peace Corps volunteer to finesse a potentially violent confrontation with armed guerrillas.
* A small cable channel (E!) to win the TV broadcast rights to radio superstar Howard Stern.??
* A seemingly crazy new running shoe (Vibram Five Fingers) to methodically build a passionate customer base.??
* A Canadian crystal maker (Nova Scotian Crystal) to turn observers into buyers.
This book explains all the tactics you need to prepare and launch an enchantment campaign; to get the most from both push and pull technologies; and to enchant your customers, your employees, and even your boss. It shows how enchantment can turn difficult decisions your way, at times when intangibles mean more than hard facts. It will help you overcome other people's entrenched habits and defy the not-always-wise "wisdom of the crowd."
Kawasaki's lessons are drawn from his tenure at one of the most enchanting organizations of all time, Apple, as well as his decades of experience as an entrepreneur and venture capitalist. There are few people in the world more qualified to teach you how to enchant people.
As Kawasaki writes, "Want to change the world? Change caterpillars into butterflies? This takes more than run-of-the-mill relationships. You need to convince people to dream the same dream that you do." That's a big goal, but one that's possible for all of us.
About Guy*:
Guy Kawasaki is the co-founder of Alltop.com, an "online magazine rack" of popular topics on the web, and a founding partner at Garage Technology Ventures. He is also a columnist for the Open Forum of American Express. Previously, he was the chief evangelist of Apple.
Mr. Kawasaki is the author of nine books including Enchantment, Reality Check, The Art of the Start, Rules for Revolutionaries, How to Drive Your Competition Crazy, Selling the Dream, and The Macintosh Way.
Guy Kawasaki has a BA from Stanford University and an MBA from UCLA as well as an honorary doctorate from Babson College.
*courtesy of book website and Amazon
You can purchase a copy of 'Enchantment' at Amazon.