By Chris Long
There are times when staying focused and being productive can be difficult, especially for people who work by themselves. If your office is in your house or even in a lonely cubicle, and interaction with other human beings is mostly through phone calls, texts and emails, you should make your work space as inviting as possible. When you wake up in the morning, you should look forward to spending most of the day at your desk, rather than dreaming up excuses not to roll up your sleeves, dig in and get to work.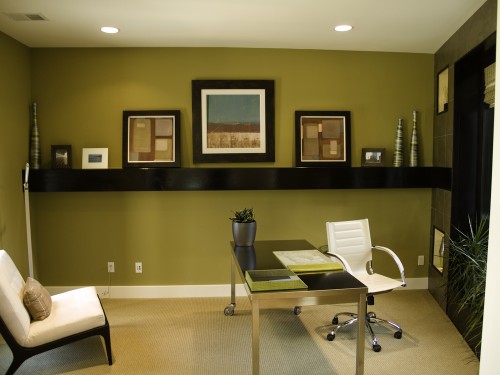 Use Your Imagination
There are some simple and inexpensive things you can do to make your work space a more inviting place to do your job.
Maybe your desk is facing in the wrong direction. Most people would rather look out a window than stare at a wall. You can move your furniture around so you'll have a better view, though you might be limited by the location of your electrical outlets and your phone and cable connections.
Invest some money in a solid, comfortable chair. You might need an extra chair if clients or co-workers ever visit your office.
Bookcases come in a variety of sizes. They are useful for storing books, of course, but you also can use some of the shelves for framed photos or for items that otherwise would be cluttering your desk.
The color of your walls can make a difference. Paint them a bright hue, or make your work space even more interesting by painting one wall a dark color and the other three a lighter shade.
Use your imagination when it comes to finding a place to store your office supplies. You can put paper clips in old coffee jars, pencils and pens in decorative glasses and bills and letters on small shelves on the wall behind you. Flea markets are a great place to find unusual items that will work well.
Surround yourself with stuff that makes you feel good, whether it's photos of your family or of a vacation you especially enjoyed or a trash can emblazoned with the midnight green logo of the Philadelphia Eagles.
Low-Maintenance Plants
One or more plants can make a big difference in your office. They help clear the air by soaking up pollutants, and they also give off oxygen. The following plants are all low-maintenance options that can make your office a better and more interesting place to work.
Aloe;
Chrysanthemum;
Golden pothos;
Red-edged dracaena;
Spider plant;
Weeping fig
Give the Walls Some Pizazz
You're probably spending at least 40 hours a week in your office, so you should do something to make the walls a little less boring. You have some options in addition to simply painting them.
Make a fake window – You can enlarge a photo you love and frame it with lightweight window molding. Then, when you're not busy, you can pretend you're gazing at the Pacific Ocean, the Rocky Mountains or the coast of Maine.
Lighting makes a difference – If you are currently bringing light to your office with harsh fluorescent lighting, a small table lamp with a natural-light bulb will help.
Decorate your walls РIn addition to photos and other artwork, you can decorate dull walls with wallpaper ̱ or with craft paper and colorful fabric attached to the walls with Velcro.
Don't forget the floor – An area rug can help define your work space, especially if your office area doesn't take up an entire room. If you are working from home, your office might be part of the dining room or a corner of your bedroom. An attractive chair mat will work as well.
Define your space – Room dividers can be useful if your office is taking up only part of a room in your house. They are generally between 5-and-a-half and 7 feet tall, and they come in a wide range of styles, from simple bamboo slats to those imprinted with photos depicting the life of Elvis Presley or the antics of popular comic book heroes.
Your office should be inviting, for you and for others – If you have guests in your office, make them feel welcome with an espresso machine or a dish of mints or chocolate. If you never have visitors, the coffee and candy will give you a good reason to hang out in your office.
Whether your work space is at home or in an office building, you should look forward to spending time there. It should be a fun, cheerful place that brings you comfort rather than stress. Most of all, it should reflect your personality and the unique way you do your job.
Author's Bio: Chris Long has been helping homeowners on DIY projects since 2000. He is an "on-the-floor" sales associate at a Home Depot in the Chicago suburbs. Chris is also a regular contributor to Home Depot's Home Decorators.com website, where his range of interests includes providing tips on home office design, floor coverings and furniture for the home.