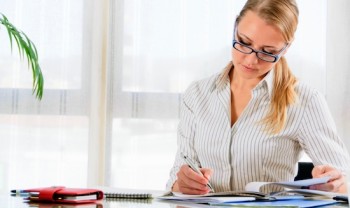 Who doesn't dream of working in their pajamas at some point?
With the plethora of jobs these days that you can do at home, it's not so unheard of.
Even if only part of your time is spent at home, many jobs offer the opportunity to do some or all of your work at home, and of course, there are the ones where you, yourself, are your very own boss.
Some Jobs Where You Can Work From Home
Not every job translates well to working from home, but you may be surprised at how many do.
Here are a few jobs that you can do in your pajamas:
Postsecondary or Virtual Teacher – If you have teaching in your background, think about being a virtual teacher. Whether it's for postsecondary education or middle or high, there's a demand for virtual teachers, even home school ones, and yes, you could work in your pj's.
Writer or Editor – Whether freelance or working for someone in particular, there is a lot of work out there for writers or editors. You can be a guest blogger, newsletter editor, contributing writer … the list goes on. The more you get yourself out there, the more you'll get noticed.
Transcriptionist – There's a big demand here for medical transcriptionists. Other fields, like law, need transcriptionists as well, and this can be done easily at home.
Online reseller – You may or may not be able to make a living off of reselling, but working selling on sites such as eBay can bring in a lot of extra income. You'd be surprised what you can find around your own home, garage sales and thrift stores.
Be Your Own Boss
Maybe you don't want to work for someone else, so think about being your own boss.
If you have specific skills, ranging from writing to decorating to a law degree, you can definitely work from home.
Sure, you may have to have a meeting every so often, but the majority of work can be done. Don't discount the possibility of being your own boss at home.
Avoid the Distractions
A key to being successful at working from home is to avoid the distractions. Hmmm, you think, maybe easier said than done.
Here are a few tips for getting your work done sans distractions:
• Have a set area to work, and only work.
• Have set times to work. Sure, you may need to adjust them as needed, but don't overlook the art of scheduling.
• Let the phone ring. If it's your personal one, that is, and leave your personal email and Facebook page alone, too. Focus on work when you're working and then you'll have time for the other things, too.
• Maybe every so often, step into real clothes instead of your pajamas. If you have an important call or virtual meeting, brush your hair and put on some work clothes. It may inspire you to be more professional.
Though it may take some creativity, discipline and structure – you can probably find a way to work from home, at least some of the time.
Please share any tips and insight you have on this concept.
Photo credit: socialmoms.com
About the Author: Heather Legg is a work from home writer who covers topics on small business, social media, education and mindful living.