Influence
Choose People Who Influence You to Succeed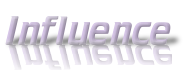 At SOBCon NW this year, I started the day with two stories one about a success and another about a fail. They were these:
The Success in the U.K.
Before the Internet, I was charged with building the strategy to turn around a small publishing company that was failing. In that noble quest, I contacted a friend and colleague in the U.K. My friend, Richard, was just what I needed to help me execute my plan. I'd known him and worked with him on multinational products for years. We respected each other's work. We respected each other's values. We respected each other.

Richard held sway in the U.K. publishing world. He taught Oxford's prestigious Brookes Publishing School. He was a member of the community of publishers and shared their respect too. He also looked the part — curly, wiry grey-white hair, ruddy complexion, button down shirt, and patches on the elbows of his tweed jacket. I was American, unknown, and there to offer a different sort of deal.

Richard set up meetings at 18 publishers, introduced me, and came along when we met. He was my credibility, translator, and sounding board. He made it easy for me to layout my Venn Diagram, to say CEOs and SVPs I just met, "Here's what I see. You publish in this circle. We publish in that circle. In this place the circles overlap. Why don't we publish together. I can offer you this, and this, and this. What I want in return is that."

Those meetings were outstandingly successful. We built a business on relationships made that way. Many of the relationships I made on that first trip about 20 years ago still survive today.

I didn't realize how much Richard and I accomplished in that single trip until the time came that the small publishing company was put up for sale. Another friend and colleague on a team sent to evaluate whether to buy us said, "Do you know what it was like to follow you into the U.K.?" After a moment considering that new thought, I replied that, I'm pretty sure even I wouldn't have wanted to do that.
The Failure that Followed It
Many years later, I found myself back in the U.K. on what was a similar quest. I was there to make relationships to move my business forward, but I was trying to do it alone. I met Richard for tea. We talked about old times and laughed. We walked the exhibit floor at the London Online event. But this time I was doing something he knew less about and he was far removed from my online world and we'd only reconnected for a short bit.

I was just as competent. I had just as strong an offer as I had years before, though on a smaller scale. But when the time came for me to set up meetings, to say hello, to make an offer, I couldn't do it. I wandered the exhibit floor talking myself out of talking to anyone for two days.

It was a total deer-in-the-headlights fail.
As is my way, I sat myself down after and considered both events. How could the same person who blew the doors off the publishing world be unable to start a conversation about business?
I realized that on the first trip I'd been talking to those CEOs and SVPs as colleagues and partners and on the second trip I'd been putting everyone in the room on a platform above me.
It's hard to offer value when you feel smaller — when you put the rest of the world above you.
That's why we all need a Richard — a person who won't let us fail.
Who Are the People Who Won't Let You Fail?
That person who won't let us fail doesn't have to do the work for us, doesn't have to have the network that Richard did. What that person needs is an undying belief in us and fierce determination in seeing us succeed. Setting up the meetings with his colleagues and attending them with me were tactics Richard chose that helped me — no question. But the difference was that he knew what I could do and steered me to play to my strengths. He wouldn't let me be less than I could be and would let me see myself as less either.
A person who won't let you fail
makes it easy to tell your dreams and goals.
answers with the hard truth told gently when you're vision is skewed.
points to your strengths when you start to feel your weaknesses take over.
helps you find what you need to get past what's thwarting you.

and

refuses to let you get in your own way.
I have a few now — some who want to remain anonymous. Richard still. Nancy too. And Terry Starbucker, of course.
A couple more have claimed the role in the last week or two.
Want to know how to find yours? Dusti Arab has that covered.
How to Find The People Who Won't Let You Fail
Then consider what Glenda did … What Impossible Idea Would You Attempt If Surrounded by People Who Won't Let You Fail?
Surround yourself with people who won't let you fail. Make them your advisors, your teammates, your partners, your mentors, your interns, and your customers. Invest in them, value them, and let them invest in you.
Who are the people who won't let YOU fail?
Are will to write their names for the world to see?
Be irresistible.
–ME "Liz" Strauss