I Feel So Lucky!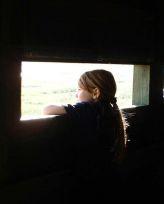 We've all had the experience of not knowing how to do something. From the first day of school to the first day of work to our first try at almost anything, the experience of a new challenge can be joyful, exciting, and intimidating.
We like to know things. We like to learn things, but we don't always like folks watching us learning.
That's the special appeal of blogging.
The Advantages of Being a Beginner in a Blogger's World
When I came to my first blog as a beginner, I found an realm of amazing people who made the way easier and more meaningful. They offered their shoulders to stand on as they shared their experience. I can't help but recognize all I've learned in this Blogger's World.
Some folks want to be an expert blogger. Me? The longer I'm here, the more I want to stay a beginner, for these and a bunch more reasons.
Bloggers love beginners. We all remember our first blog post.

Bloggers are connectors — link love is the culture. Beginners meet a friend and find a community.

Bloggers are explorers or we wouldn't be here. Beginners can find help to explore anything.

Bloggers are generous and helpful people. Bloggers love to share their discoveries with beginners.

As a beginner, I can try to blog about almost anything.

The beginner in me can talk to bloggers who are as passionate as I am — even what I'm just trying.

Every blogger knows something I don't — it's an endless opportunity for a beginner's mind.

Blogging is more fun when it's about what I'm learning, not about what I know.

Beginners get comments from people who see and know more. Every comment connects us and offers a new way to see the world.

Beginners don't look to be the best of all — today I want to be better than yesterday.
Thinking, writing, having ideas and talking about them has been a wonder. Making relationships and connections has made my life richer. I'm a better writer, listener and marketer. Most of all being here has made me a better person. I want to stay a beginner. New beginnings are exciting.
Have you thought about staying a beginner?
–ME "Liz" Strauss
Work with Liz!!
SOBCon08 is May 2,3,4 in Chicago. Register now!