A Weekly Series by Teresa Morrow
I'm Teresa Morrow, Founder of Key Business Partners, LLC and I work with authors and writers by managing their online promotion. As part of my job I read a lot of books (and I love to read anyway!). I am here to offer a weekly post about one book I am working with and one book I have put on my reading list. The books will cover topics such as social media (Facebook and Twitter), organization, career building, networking, writing and self development and inspiration.
Quirky Marketing Calendar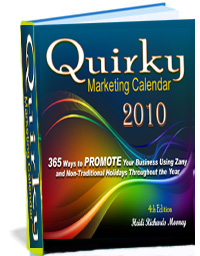 This week I would like to start off with an ebook I have read and working with the author entitled Quirky Marketing Calendar: The Ultimate Ebook to Promote your Business 365 Days of the Year by Heidi Richards.
For every business owner using the special holidays and events is a creative way to help promote your business and a nice departure away from the traditional.
Here are a few of the suggestions to market your business in a Quirky way:
Did you know?
March 5th is Nametag Day – Want some media attention? Do what Joe Porcelli from Neighbors for Neighbors did. Joe wore a nametag every day for the entire year of 2007 and got coverage which sparked other companies to jump on the Nametag bandwagon. Wyndham Price Agency and the Norwich Bulletin of Massachusetts provided free nametags during the week leading up to Nametag Day. People dropped by Wyndham to collect their name tags and the Norwich Bulletin put a nametag ready to use right on their front page! There was a complimentary edition of the Norwich Bulletin delivered to all non-subscribers in Colchester . And the local Parks & Recreation hosted a wrap up Nametag Day event on Tuesday, January 23rd at the Colchester Youth and invited people to share their unique experiences of wearing the nametag for a day and meet new people too.
AND…
July is National "Doghouse Repairs" Month ~ Dog treats may be a hit with animal lovers. Give away cookies in the shape of a dog bone… wrap them individually in cello with a little bow,
add your business card and pass out at networking events or in your establishment. I purchased the dog bone shaped cookie cutter at a local craft store, took it to my local
grocer/baker and they made me 1,000 cookies for this promotion. I also took them on trays to local radio and TV stations delivered by a local actor in a "Scooby Do" – like costume.
About the Author:
Heidi Richards Mooney is an author, business coach &entrepreneur. Mother of 3– Jennifer, Alexis (deceased), and Suzannah, grandmother to 3 beautiful children – Devon, Madison and Logan, wife to Timmy and friend to many. Heidi grew up in California and moved to Florida in '74.
A writer, social media coach and entrepreneur, Heidi enjoys traveling to new countries, learning new cultures & sharing a woman's perspective on marketing, leadership and running a business. She has written 8 books and co-authored 2, published and edited several ebooks and publishes a quarterly international magazine – WE Magazine for Women.
Heidi is the Founder & CEO of the Women's ECommerce Association International (WECAI™) ~ a virtual organization of women in ecommerce.
You can pick up a copy of Quirky Marketing Calendar here.
Book Yourself Solid
Now is time for me to showcase a book I have not read but it is on my reading list. This week my choice is Book Yourself Solid by Michael Port.
Book Yourself Solid is a complete instructional guide for starting and growing a successful service business. It gives you simple, yet effective techniques for creating relentless demand and endless leads. It includes more than 200 proven marketing strategies for attracting new clients, earning more referrals, and building profitable, long-lasting professional relationships. If you want to take your service business to the next level, start here and Book Yourself Solid.

About the Author:
There's nothing ordinary about Michael Port, at least, according to his mother. But others seem to agree. Day to day, he runs one of the largest and most respected coaching programs for small business owners in the world at Booked Solid University.
Michael has been called "an uncommonly honest author" by the Boston Globe and a "marketing guru" by The Wall Street Journal. He is the author of four bestselling books including Book Yourself Solid, Beyond Booked Solid, The Contrarian Effect, and the New York Times Bestseller, The Think Big Manifesto.
A few tips about networking from the book:
1) Do arrive on time. Port writes" This is not the time to stage a grand entrance by being fashionably late…"
2) Do relax and be yourself. He adds,"Contrary to conventional wisdom, you don't have to fit in."
3) Do introduce yourself to the person hosting the event. Port explains,"The person may be a very valuable addition to your network."
You can get yourself a copy of Book Yourself Solid on Amazon.