March to Your Own Drummer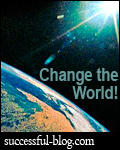 When I was a child, people said I marched to a different drummer. It was said with a bit of love and a forgiving smile. The implication of such a condition was a sad prognosis. It meant that I would never get where folks were supposed to go or that it would take me a hard long road to arrive there.
I'm not sure that I really followed that different drummer. Seems I ended up in a life much like most others. I didn't take nearly the risks that I might have, nor did I reach for the rings that dreamed of. Secretly I thought those dreams meant for other people.
I've come to realize that we're all leaders who have been following someone else's path. First in school we learn to lead inside their corridors and conventions. Then in the work world where a veer to the left will get a bad review or an escort to the door with no thought of returning.
We've been trained to change ourselves to make ourselves fit into the cars that drive us to the buildings where we work in the jobs that we study for so that we have the right skill sets. And we wonder every day if who we are is good enough to be there. It's the dilemma of the square peg worrying that someone will find out it doesn't belong in a round hole.
I guess I finally fell in step with that drummer, because now I show people how to live and work their passion. It's an amazing thing to see the change when they realize they can be exceptional and make a living.
What if we all fit jobs to ourselves and best skills instead trying to fit us them? Wouldn't we be outstanding performers? Couldn't the world use some original thinkers who brought their best to solve the hardest problems? I'm thinking that we would see that sort of work as noble, invigorating, and productive.
What if we became leaders on our own paths following our own drummers?
How could bringing our best be anything less than outstanding?
We can change the world — just like that.
–ME "Liz" Strauss
Work with Liz!!