A Weekly Series by Teresa Morrow
I'm Teresa Morrow, Founder of Key Business Partners, LLC and I work with authors and writers by managing their online promotion. As part of my job I read a lot of books (and I love to read anyway!). I am here to offer a weekly post about one author I am working with and one book I have put on my reading list. The books will cover topics such as social media (Facebook and Twitter), organization, career building, networking, writing and self development and inspiration.
Upbeat by Rajesh Setty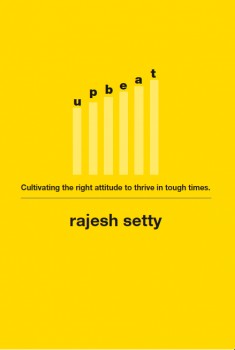 This week I would like to start off with a book I have read and have worked with entitled Upbeat by Rajesh Setty.
This compact book is filled with wonderful ideas and strategies to help any business owner or entrepreneur get out of the "jam" they may be filling at the time.
Here are a few tips from Upbeat I would like to share with you:
1) Be Accountable to Yourself – "Recession time is hard on everyone but that does not mean that you should go into a state of inertia, waiting for the times to pass."—>The time is now. Take inspired action to do something today to get to where you want to be. Sitting down and doing nothing will get you just that…nothing.
2) Be Grateful – "Yes, you are frustrated, things are not going well, and most of it is not your fault. However, do remember that in the general scheme of things you are lucky enough to have the opportunity to think and do something about it." –> Take some time to embrace the blessings in your life. Write them down even and you will be amazed at how many things you have in your life to be grateful for. When you are grateful, the positive energy comes out of you and into other people's lives.
3) The Discipline – "Like any good idea, discipline is very easy to grasp an an idea but has no value unless it is implemented–and well. Quote by Jim Rohn "Every disciplined effort has multiple rewards". –>things take time to come together and become successful. However, if you don't start creating action to make those things happen, it won't.
See, and those are just a few golden nuggets from Rajesh's book, Upbeat.

About the Author:
Rajesh's mission in life is to bring good ideas to life. With love!
Rajesh is involved in a few companies in some combination as a founder, operating executive, board member and/or an investor. Apart from that, he has written a few books and is working on a number of them. His first book was published at the age of thirteen. While he is not building companies or writing, he enjoys speaking at conferences and company events.
You can read his latest thoughts on his blog Life Beyond Code or on Twitter at UpbeatNow. If you are really curious to know the events that shaped his thinking, you can read his story so far here.
Rajesh lives in the Silicon Valley with his wife Kavitha and son Sumukh.
You can pick up your copy of Upbeat at Amazon.
Masters of Sales
Secrets from Top Sales Professionals that will transform you into a World Class Salesperson
Now is time for me to showcase a book I have not read but it is on my reading list. This week my choice is Masters of Sales by Ivan R. Misner, Ph.D and Don Morgan, M.A.
Bursting with valuable advice from Jack Canfield, Anthony Robbins, Keith Ferrazzi, Tom Hopkins, Al Lautenslager and more than 70 other masters of the art of selling, this exclusive compilation of the best sales strategies ever known puts you on the fast track to sales success.
Just a short but poignant business lesson of what I read by just picking up the book once:
This is a excerpt about Janet Attwood (speaker, trainer,author)–
"A persistent attitude is mandatory for success in any endeavor, including sales. You may need to stop banging your head against the wall and change directions, but don't stop too early–you might be closer to success than you realize! Listen to your intuitions, and you can make a lot of money!
About the Authors:
Dr. Ivan Misner is the Founder & Chairman of BNI, the world's largest business networking organization . BNI was founded in 1985. The organization has thousands of chapters throughout every populated continent of the world. Each year, BNI generates millions referrals resulting in billions dollars worth of business for its members.
Dr. Misner's Ph.D. is from the University of Southern California. He has written nine books, including his New York Times best seller, Masters of Networking and his #1 bestsellers, Truth or Delusion, and Masters of Success.
You can pick up your copy of Masters of Sales on Amazon.