New York City, Seth Godin, Ann Michael, and a Paper Flower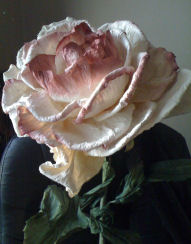 In August 1998, I was wandering the streets in New York City. Later that evening our company sales conference would start. As I turned the corner somewhere near 33rd and Park, I was enjoying the view in a florist window. I walked two stores past. Stopped. Something I'd noticed had taken me. I literally backed up ten paces and went into that flower store. I came out grinning.
What had stopped me were handmade paper flowers — taller than I am. I had found a new friend for my presentation the next day. I left the florist with giant flower with a stem down to my ankles and greeted New York like a giant kid with a huge balloon. The flower has shared my office ever since. On occasion, it even sits in my desk chair.
In 2006, I returned to that same New York neighborhood for a Seth Godin seminar. I met Ann Michael. there for the first time. As we walked around the city, I'm sure I told her the story of that flower and the people who opened doors for me — the strange tall woman with a bag in one hand and unhelpful flower friend in the other.
I keep a white silk flower in a blue glass vase on a shelf in my living room. I bought the vase from a catalog. Then I bought the flower. They look stunning together, but they have no story.
This morning at Seth's Blog something he said in May made me stop, like I did that day in New York City.
If you want to get noticed, don't be so polished. . . . When in doubt, scrawl make it human.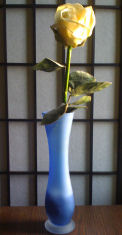 I looked around for examples in my life — and I found two flowers . . .
That white rose in the blue vase is elegant, but that that paper flower connects me to people — people who've seen it in my office or heard the tale of how it got bought. That paper flower calls up so many stories, it could fuel a blog.
When you make a blog, a social network, or product for me, could you make it imperfectly human? It's human touch that lingers and connects.
What do you have that's like my paper flower?
–ME "Liz" Strauss
Work with Liz!!
Get your best voice in the conversation. Buy Liz's eBook., now!
Images: Liz Strauss