He's Also Got Great Things to Say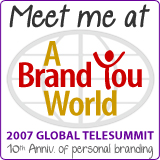 No doubt that Phil was fun last night at Open Comments. The man has an imaginative brain. Put that same brain to work on a problem or an idea, and you'll find he has exciting and profound things to say. You'll get your chance tomorrow in a teleseminar that's part of A Brand You World, the celebration of the 10th Year of Personal Branding.
Phil's speaking on line 2 at 6pm ET/11pm UK — his topic is Identity You: Creating a Personal 5×5 Branding Strategy.
So tune in. Those of us who heard Phil's keynote at SOBCon07 know the high value of listening in when Phil is speaking.
The A Brand You World teleseminar schedule lasts 12 hours with two parallel tracks. The list of SOBs on the venue include:
Listen in. Finding an answer you've been searching for is winning. Hearing someone say a truth you know is inspiring. How can you lose?
–ME "Liz" Strauss
Work with Liz!!