A Weekly Series by Teresa Morrow
I'm Teresa Morrow, Founder of Key Business Partners, LLC and I work with authors to help manage their online book promotion. As part of my job I read a lot of books (and I love to read anyway!). I am here to offer a weekly post about one book author I am working with and one book I have put on my reading list. This week I will be highlighting '#TEAMWORKtweet' by Caroline G. Nicholl and 'Corporate Blogging for Dummies' by Chantelle Flannery and Douglas Karr. The books I discuss will cover a range of topics such as social media, marketing, blogging, business, organization, career building, networking, writing, self development and inspiration.
'#TEAMWORKtweet: 140 Powerful Bite Sized Insights on lessons for leading teams to success'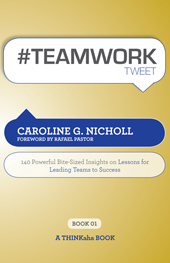 "Caroline's work on teams is highly relevant, particularly in a tough economy: her insightful work with one of our divisional teams surfaced issues that clarifi ed exactly the priorities the team needed to address to increase its performance in a way that the team could hear. The team quickly got motivated to action.
Caroline's approach is practical, sensitive and to the point, precipitating rapid learning and improvement."
~Jay Reid, Senior Vice President, Labor Ready Inc.
Here are a few tweets to share from #TEAMWORKtweet:
#4 Teams are as old as the hills but we need a new understanding of their power. Solutions need acceleration that only teamwork delivers.
#7 Many teams are besieged by under performance, stress and underachievement: the current cost is huge;
the lost opportunity unfathomable.
#13 A common definition of a team is 'two or more people working together to achieve a common purpose
no single person can achieve alone.'
#26 Teams share information, knowledge and perspectives that minimize blind spots, errors, the impractical, waste and endless daydreaming.
About the Author:
After a hugely successful career in law enforcement spanning two continents, Caroline Nicholl launched her Organizational Development and Coaching consulting company, Blue Apricot Solutions, so that corporate America too could benefit from the lessons learnt in law enforcement.
At Blue Apricot, Caroline works with industry leaders to root out the dysfunction and ineffectiveness found in teams, both in public and private organizations. She firmly believes that, central to individual, organizational and world success in the 21st century is building high-performing teams.
Caroline serves as Adjunct Faculty for the Organizational Development Program at the University of Georgetown and as Chair Facilitator of two groups of chief executives for Vistage International, the world's largest CEO membership organization. To benefit from Caroline's never-in-the-box vision, visit Blue Apricot Solutions.
You can purchase a copy of 'TEAMWORKtweet' online at ThinkAha Books or at Amazon.
This blog post is part of a virtual book tour done by Key Business Partners, LLC and I have received a complimentary copy of '#TEAMWORKtweet' by the author.
'Corporate Blogging for Dummies' by Chantelle Flannery and Douglas Karr
Now I would like to highlight a book on my "review" reading list–'Corporate Blogging for Dummies'
I have to say that the "for Dummies" books are one of those staples in any business environment, whether you are a entrepreneur or employee of a big company. And 'Corporate Blogging for Dummies' is no exception.
As I picked up the book to look through the pages I found myself finding great chunks of information about blogging, social media, and search engine optimization that will help anyone with a blog (not just those in corporations). If you are an entrepreneur or small business owner, you will find valuable blogging information in this book too.
Chantelle and Doug have done a nice job of categorizing the information in a way that is easy to read and you will be able to take action on your blogging right away.
'Corporate Blogging for Dummies' takes the reader from thinking about your blogging goals, to choosing a blogging platform, to optimizing your blog to marketing your blog, and even how to measure your blogging statistics.
About the book:
Corporate blogs require careful planning and attention to legal and corporate policies in order for them to be productive and effective. This fun, friendly, and practical guide walks you through using blogging as a first line of communication to customers and explains how to protect your company and employees through privacy, disclosure, and moderation policies.
Blogging guru Douglas Karr demonstrates how blogs are an ideal way to offer a conversational and approachable relationship with customers. You'll discover how to prepare, execute, establish, and promote a corporate blogging strategy so that you can reap the rewards that corporate blogging offers.
* Shares best practices of corporate blogging, including tricks of the trade, what works, and traps to avoid
* Walks you through preparing a corporate blog, establishing a strategy, promoting that blog, and measuring its success
* Reviews the legalities involved with a corporate blog, such as disclaimers, terms of service, comment policies, libel and defamation, and more
* Features examples of successful blogging programs throughout the book
Corporate Blogging For Dummies shows you how to establish a corporate blog in a safe, friendly, and successful manner.
*courtesy of Amazon
About Chantelle and Douglas:
Douglas Karr is the President and CEO of DK New Media. He runs the Marketing and Technology Blog.
Chantelle Flannery works at a social media agency focusing on strategy, client relationships, and production management. Chantelle blogs at Her Take on Marketing.
You can purchase a copy of 'Corporate Blogging for Dummies' on Amazon.
I truly hope you will check out these books and please comment and let me know your thoughts on them.
*I have also received a complimentary copy of 'Corporate Blogging for Dummies' from the authors.