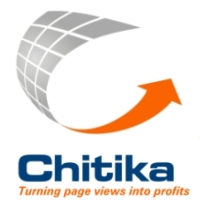 I have had couple of e-mail conversations with Jeff Sable of Chitika, and he asked me to share with all of you some of the new features of this service that have been incorporated since May.
Good morning. I would very much welcome an opportunity to introduce Chitika's Premium ad program to the SOBCon audience. We have been known for years as a blog ad network but we were a strict product niche (i.e. we had product ad widgets for blogs that discussed products). With our Premium program we have significantly increased the advertiser base (we still have product ads but now we also have great ads for ALL blog sites) and we have improved our targeting technology.

The results? More money for more bloggers. Publishers with Chitika|Premium ads are seeing eCPMs are as high as $71 (averaging slightly higher than $2), with click through rates as high as 13.5% (averaging approximately 1.5%) and we now have high-performing advertisements for any type of web site (product sites and non-product sites in all verticals).

Note, Premium ads will only display to a portion of a blogger's US traffic but when they display they perform very well. The ad units are available in 2 dozen sizes. For more information please visit Chitika or contact jeff at chitika dot com.
Thanks for the update, Jeff. I imagine that many of the attendees will be interested in this service as they work toward building their blogs into media properties.