Business relationship building is art, one you cannot really do without if you are interested in career building, building an effective team, managing your brand, and discovering new growth opportunities for your business.
Blogging is all about relation building too: In fact, it's more about being social than about creating content, so mastering digital business relationship building is the key to blogging success.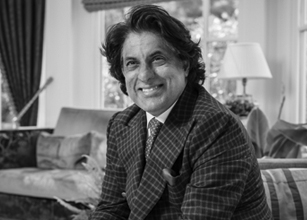 I was lucky enough to catch up with one of the best-known global entrepreneurs Tej Kohli, Chairman of Kohli Ventures, and ask him a few questions about relationship building. I have also added my own tips on how to apply this advice to blogging and the digital world:
Why are good relationships important in business?
Without a good relationship between trading partners, the business will not prosper.

Just like a strong  marriage , integrity and expectations of the other party in business are key to a successful and long lasting relationship.
How to develop business relationships? What are the basic principles?
In business, it is important to build up a relationship over time and not  jumping straight into the deep end.

Basic principles are to agree on each others expectations and a code of conduct and communication between the parties. Be clear on the financial terms between the parties from the very start, to avoid confusion later.
This is very important in the digital world too: Relationship building should not be measured in numbers and months. It's a long-term process where, obviously, the rich gets richer. It's hard to start but it's well worth it!
How and why to develop global business relationships?
Any start up businesses always has the potential to grow globally whatever the product. If it is run with financial discipline, entrepreneurial flair and vision and a strong work ethic is how to make it globally.

Global growth can give the business a stronger back bone in terms of negotiation power.
Should the team be involved in developing off-company business relationships. If so, how?
For sure, as these relationships lead to creating new business contacts.

The best way of building a strong business is through referrals coming from satisfied customers and partnerships.
There's has been a lot of debate about intra-company social media policies and I am always saying: If you want your employees or team members to be your company ambassadors, allow them to be on social media!
How can Internet technologies improve business relationships?
With dematrialisation, demorcitaisation and digitilisation we are now able to reach the masses with a click of a button.

Social media, business reputation profiling and marketing with a targeted approach to selected audiences, can all be done through the Internet – it saves time, money and manpower.
We live in the exciting times: We can build global business and international partnerships and events from home. Not leveraging those opportunities means missing out! I want to thank Mr Kohli for setting such a great role model for us all. I hope you are inspired!