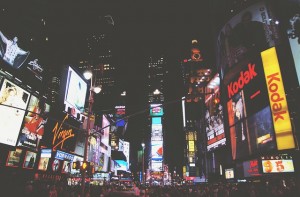 Depending on the size of your business, you may or may not have a tight advertising budget.
No matter where your budget falls, you hopefully know that advertising (and marketing for that matter) is of major importance in your ability to spread your brand's word.
Minus advertising, you then have to rely on word-of-mouth from satisfied customers. Although such advertising can work to a degree, getting your brand's name, phone number, website address etc. out there for countless eyes to see is imperative.
Keeping that in mind, is this the year you up your advertising ante, looking to get added bang for your dollar?
If so, determining just where those ads will be placed is the crucial decision at hand.
Where Do You Get the Most Eyes and Ears?
Knowing where you are likely to get the best results for your advertising efforts will, of course, play into how you go about promoting your brand.
On the one hand, you could allocate more funds towards the web and mobile devices, especially given how many consumers use both to browse for and ultimately buy goods and services.
On the other hand, have you opted in recent years (unless of course, you are just opening up a business) for billboard advertising for your brand? If not, look below to the different advantages it offers.
They include:
Constant 24/7 exposure until your placement runs out;
Competitive prices depending on which advertising agency you go with;
Advertisement placement where you may not have direct competition from others in your industry.
Lastly, billboard advertising gives you the opportunity to get it right the first time around, typically with little chance for error.
As an example, how many times have you seen a brand advertise its products or services in a newspaper or magazine, only to see a misspelled word or two? When this occurs, the brand has to ask for a correction. By then, the damage may already have been done.
Even though the brand itself may very well not be responsible for the gaffe (in many cases, the individual at the newspaper or magazine typing in ad copy is responsible), many consumers may pause and giggle about the mistake.
In many cases, the brand has left an impression, one which will not exactly win it lots of new customers.
Where Should You Locate Your Billboard Message?
As important as your brand's message is with billboard advertising, where exactly should your ad be placed?
Where that billboard message goes and how it is designed will, of course, be determined by several factors.
They include:
Whether you want in town or leading into or out of town. Your message will obviously play a role in this.
Do you want your billboard near a director competitor's billboard and/or their office or store?
Are you looking for a rotating billboard message, one that is lit in the evening hours, and a message that offers imagery of someone from your company or a local model or actor?
Lastly, determine whether or not you want to add your website address to the billboard or not.
In today's digital age, it is almost a surprise when companies do not add a website listing to a billboard.
When people are passing by (typically in vehicles); it can be difficult to jot down a company phone number. Your company's web address should prove much easier for the consumer to remember.
In order for your brand to get the right amount of publicity, billboard ads can do wonders for your business.
With that in mind, are you building more recognition for your brand this year?
Photo credit: Pixabay
About the Author: Dave Thomas covers business topics on the web.