By Dorien Morin-van Dam
You are business owner. You are active on social media. You even have a blog on your website and you are doing your best to keep your blog original, fresh and active, posting new articles on a regular basis. You send out updates on your social media sites and you might even have joined a blogging community to share articles of like-minded bloggers.
Does this sound like you?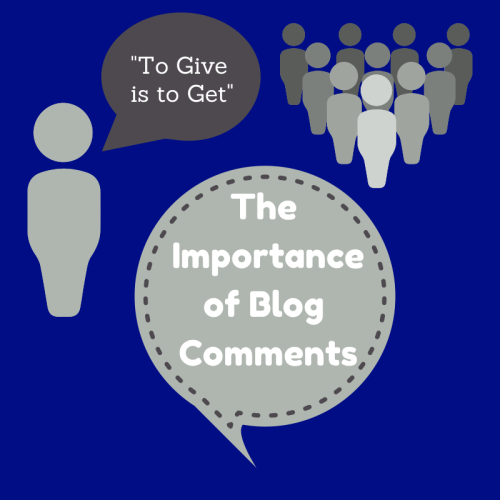 But…you knew there'd be a 'but' right? What else can you to do 'spice up' your blog? What are you forgetting? I am here to tell you that many bloggers forget to do one important thing. Blog commenting. Asking for comments as well as leaving comments.
To my own clients who want to get more eyeballs on their articles, one of the first things I recommend is for them to start seeking out the blogs of other bloggers & experts in their industry and to start leaving intelligent, well thought-out blog comments.
Not sure you'd know what to say and what to comment on? Go read some comments!
Seriously! The best way to learn blog commenting is to go to (larger) publications and to see first hand what types of articles generate what types of comments. According to Jeff Goins, there are 7 types of commenters. Read his article here and decide which one you are, or want to be!
Who Should You Give Your Blog Comments To?
There is no 'right or wrong way' to leave blog comment, because in essence any blog that accepts your comment should be grateful you've taken the time to give them feedback.
However, if you'd like to target and leave blog comments for the purpose of getting blog comments back, I suggest starting here.
Leave comments for:
• Those in your industry
• Local (business) blogs
• Your colleagues
• Those in your blogging community
Why Should You Take Your Valuable Time To Leave Blog Comments?
There are many reasons behind blog commenting, that is another post on its own, but I did want to start you thinking about a few reasons why leaving blog comments could be beneficial to your business, your own blog and your writing skills.
• To show your expertise – Leave a comment that adds value to the article
• To make new connections – Leave a comment
• To find collaborators – Leave a comment and connect with like-minded people
• To start online conversations – leave a comment and get noticed
• To give feedback – Leave a comment for a specific reason
• To get backlinks – Once your comment is approved, you'll most often get a link to your own site
• To get noticed for guest blogging – leave a comment and show off your writing skills
What Should You NOT Do When You Leave a Blog Comment?
Don't make these five blog commenting mistakes! It might seem like common sense to you, but I often get these types of comments on my blog. When I see these types of comments, I am always happy I've set my blog commenting system up so that I have to approve any and all comments before they go live.
Now that you know the importance of commenting on blogs, how about I help you figure out how to get some comments for yourself? Consider how you should go about attracting the right audience to your blog and how to entice them to interact with you and leave a comment.
Why Do You Want Blog Comments On Your Blog?
There are multiple reasons to want to have an active commenting community on your blog. Here are some of the more obvious reasons to want to get blog comments.
• To build your online community
• To get potential customers to notice you
• To develop strong relationships with your readers
• For economic growth (get new customers!)
• Give-Away/Promotion
• To get feedback on your writing
• To become an authority in your field/industry
• To drive even more traffic to your blog
Caution!
There are a few things to watch for once you start to encourage blog commenting on your own site. Here they are in no particular order.
• Watch out for spammers
• Take time to moderate any and all comments
• Deal with, and process, negative comments
Ideas on How To Get Comments
An active community of commenters is a sign of a great blog. Comments inspire new comments and the cycle continues. To insure this commenting will go on and on, here are some ideas to get, and keep generating, good quality comments!
• Ask for comments
• Include a call-to-action at the end of each article
• Ask a specific question of your readers to be answered
• Give comments to get comments back
• Write provocatively (or 'shake things up a bit')
• Make commenting easy for the public, hard for spammers. Check your settings!
• Create a blog comment policy outlining what is expected of your community
• Respond to comments! You will get more comments that way. First, as people see you reply, they are more likely to leave a comment in the first place and once you reply to their comment, you can ask a follow up question.
Whether commenting has been on the back burner or not, ramping up your commenting can make a huge difference in the quality and quantity of your blog comments going in and out!
I've had fun writing this article (my first on this site!) and I have just one question for you:
Will you let me know what your most successful blog commenting strategy is? I can't wait to read the answer!
Author's Bio: Dorien Morin-van Dam is owner and social media marketer at More In Media, a social media consultancy in Myrtle Beach, South Carolina. Dorien provides social media consulting, management, training and education; she is passionate about teaching social media to small business owners. She services clients all over the USA and has worked in many different industries as well as with several NPO's. In her spare time, Dorien manages four kids, three dogs and a husband. She runs marathons and loves to bake, travel and read.