Would the Ultrabook Fit into My Business Life?
As I headed down to a final check on the room for SOBCon this year, I also picked up a package delivered to site by HP to me. It was a new HP Folio 13 – offered without strings if I'd take it for a test drive. The poor light-weight little machine was going be "baptized under fire." I opened it in a hotel room while preparing the last details of the biggest event of my year. And from that event and that hotel, I'd be moving north to CMSExpo
Now I've had the Ultrabook with me for about 6 weeks. It's time to report on whether the HP Folio 13 actually was as business friendly as they said.
5 Business-Friendly Features and How I Experienced Them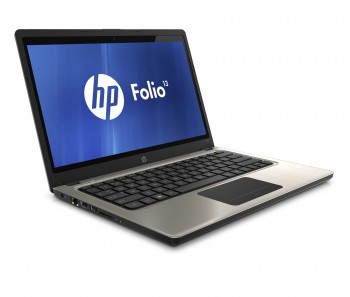 When the folks asked me to try the Folio13, I was leery about taking on another gadget in my life. If for no other reason than we're running out of power strips, I didn't want something else that needed plugging in.
But I got no pitch. What heard was a personal invitation to see whether I agreed that this UltrabookTM would make small business life easier, faster, and lighter.
Specifically I heard about 5 business-friendly features HP had built in to serve the small business niche. Here's all 5 features, what HP says about them, and my experience with each.
All-Day Battery Life
What HP says: With more than nine hours of battery life, mobile business professionals don't need to worry about jumping through hoops to keep their notebook's battery from dying halfway through the work day anymore. The Folio's battery life will last through the entire work day on one single charge.

My experience: I turned the machine on, did what I needed for up to 2 hours and sometimes only five minutes. The machine was fast, agile, and sleek. The backlit keyboard is intuitive with great feedback. While I was at my event, I let a few people play with it. I'm not sure how long they had the battery working, but I know that I forgot to turn it for four days and still had battery left. Since then, I've used it up to 6+ hours (I'll never learn to watch a clock) and love that I can fly coast to coast without having to worry about battery life.

TPM Embedded Security Chip
What HP says: Business users who go to great lengths to keep their notebooks secure will love the Folio's Trusted Platform Module (TPM) chip. It acts as an extra layer of security for all of your personal information, including documents on your hard drive and even email.
My experience: Sounds nice, but from what I can tell. This is slightly better than a bank saying your money is safe. Lots of vendors use TPM and TPms may not be deployed some countries including China, Russia, Belarus, and Kazakhstan, where the government might think your data access should be open to them.
HP CoolSense Technology
What HP says: Whether you find yourself working from a desk or on the road, HP CoolSense technology keeps the Folio's surface temperature at the perfect level. This technology uses advanced hardware and intelligent software to keep the Ultrabook noticeably cooler.
My experience: They're right on this one. It's not only cool, but it's quiet. As someone who works in a variety of locations that don't include desks, a laptop with a cool temperature that isn't always making noise is a pleasure.
Intel Rapid Start Technology
What HP says: The Folio's Solid State Drive (SSD) not only increases speed and reliability, but it also enables Intel's Rapid Start Technology, allowing on-the-go users to boot up and log on in a snap! The SSD means the Folio13 will be ready to go to work when you are, wherever you take it.
My experience: I open the lid and within 8 seconds I can type my password and be in — right on the line of the email where I left off! Very different from my experience this week with a friend waiting long minutes for his laptop to start up so that we could discuss a document.
Ultra-slim and ultra-light
What HP says: The Folio13 makes mobile computing ultra-easy. It's less than 18 millimeters thin, making it the perfect travel companion for short commutes or long flights. The Folio13 can go anywhere you need it to go, and the nine-hour battery life means you won't have to lug around extra batteries or charging cords, making it even more travel-friendly.
My experience: How light is that? Let's just say I no longer worry out whether to bring my laptop or my iPad. It's so light I can bring them both! The power pack doesn't add a huge load.
By the way, unpacking and starting it up for the first time was a breeze, even in a hotel room with hotel wifi to contend with.
I did get caught up short when I was ready to present and realized that the Ultra in Ultrabook meant that I didn't have the appropriate port to connect to a projector which left me borrowing a laptop to run my presentation. I'll be finding out whether to get an HDMI cable or an adaptor for that.
In the end, the HP Folio 13 Ultrabook is indeed a business-friendly small business friend. AND I haven't even mentioned yet, that HP is letting me give one away to someone who buys a ticket to SOBCon NW!! Thank you, HP, for the opportunity times two! (more about that soon.)
Oh, yeah, I hardly ever have to plug it in. I love stories that have a happy ending.
Be irresistible.
–ME "Liz" Strauss