"A shopkeeper should always have a ready smile"

One of the most impactful changes my company has made in the last couple of years is our addition of live help on the website. It has made a big difference in sales, and I'm convinced that it's our version of the "ready smile" mentioned in the Chinese proverb.
The cheery greeting "bonjour!" rang out every single time I entered a shop on our trip to France years ago. It didn't matter if the shopkeeper was in the back, sweeping out front, or behind the counter. It made us feel welcome–and more likely to linger and strike up a conversation.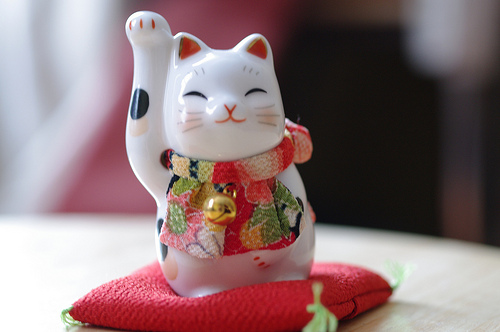 To power our "ready smile," we're using a service called SnapEngage, but there are a lot of other options out there, including LiveEngage, Moxie's Chat Spaces, and Velaro.
According to a Velaro white paper, "although statistics show that over 66% of all ecommerce shopping carts are abandoned, online customer service (live chat) improves the chance of a purchase by 40%-60%."
But it's not really about the technology. It's about having a person with a ready smile on the other end of the chat. We often get people question the popup box, "are you a robot? or are you a real person?" Our staff is likely to reply with a friendly joke. What better way to make a connection with a visitor than making them smile?
Here's how to maximize the benefits of live chat on your website:
Be selective about where you use the proactive popup. Consider disabling it on pages that show video, or other media that might be interrupted by the popup.
Wait a few seconds before it pops up. Let the visitor come all the way in and take a peek before you prompt the chat window.
Make sure someone is staffing it. It does take a commitment to staff the live chat; make sure you have internal staff ready to respond if you have the chat window enabled.
Train employees to react appropriately to different questions. Incoming questions from visitors can be unpredictable…it can be sales oriented, a customer question, a technical question, or something completely off the wall. Be sure your chat staff is prepared. Does the sales team want an email address collected from prospects? Ensure that message is communicated to those staffing the live chat.
Analyze the data (what types of questions, where are they coming from, what browsers are they using, what pages are they lingering on). You've got a treasure trove now. Use it to inform your content strategy, your marketing materials, your sales messaging, and perhaps even your product documentation.
Define the purpose of the popup (is it customer support, or sales, or both?). Make sure it's clear to your visitors, and your chat staff is informed.
What's your business personality? Share with your chat staff the tone you want to communicate. Are they free to use smilies? Can they make jokes? We go for a tone of friendly professionalism; often it's a good idea to follow the lead of the visitor.
A live chat service on your website can be a direct conduit to your visitors' thoughts.
But perhaps more importantly, it's a technological version of your "ready smile."
How do you greet your website visitors?