Have you noticed? Big data is the new buzzword. Apparently, it's so hot you should "make out with it," according to Mitch Joel in his new book, CTR ALT DEL.
But if you're like most entrepreneurs, bloggers, or small business owners, you have no clue what big data is, or how it might apply to your business.
So here is my all-access definition: "big data" is sets of information that are way too large to be accessed or analyzed on your average computer or set of servers. Think of data being fed from RFID tags globally, or all of the data in Facebook's open graph, or earthquake sensor networks. You're probably contributing to big data yourself, whenever you serve up an ad on your site from an ad network.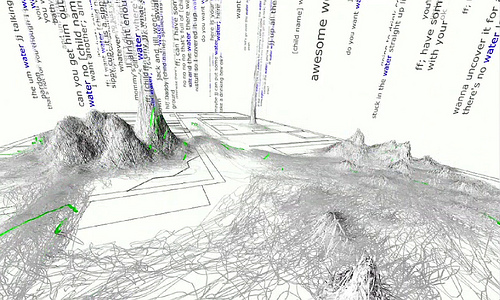 Perhaps none of these big data sets apply to your blog site, but the wider discussion about how to draw business insights from big data absolutely does apply.
Maybe we should call it "medium data."
Here are three ways you can use medium data to draw insights for your blog.
Google Analytics
It's free, and it's getting deeper every day. If you haven't signed up yet, here's a quick tutorial on how to get started with Google Analytics.
At the most basic level, you can draw insights on who is visiting your blog, which content is the most popular, and where you can improve.
Once you dive deeper into the data, you can figure out whether all that time you spend on Twitter is actually driving people to your blog using Advanced Segments in Google Analytics.
Customer Surveys and Interaction
If you're a blogger, your customer is a reader, perhaps a commenter or member of your community. Maybe they downloaded your eBook or signed up for an online course. Every time you interact with them, you have an opportunity to gather intelligence.
Whether it's a quick one question "how did you like that book" sent in a followup email, or a more in-depth customer survey, you have the ability to pull together data to feed your future efforts.
John Jantsch said in an article a year ago, "Until a business of any size gets serious about listening to their customers, talking to their customers, and measuring every possible data and touch point, the promise of more data will only serve to distract."
Accessing Big Data from Researchers
All of the data you use doesn't have to come from your own blog site or customers. There are myriad free or inexpensive resources out there that can help you build business insights on your subject area.
Organizations like Edison Research, Gartner, and The Social Habit routinely produce scientifically valid research based on a much wider data set that you can access on your own. Find a research outlet that covers your industry or topic, and leverage their reports to come up with blog post ideas, watch for future trends, and increase your own utility to your audience.
Are you using data (small, medium, or big) to draw insights for your blog?
Image: Flickr CC