A Weekly Series by Teresa Morrow of Key Business Partners, LLC
I'm Teresa Morrow, Founder of Key Business Partners, LLC and I work with authors & writers to help them with their online book promotion and marketing. As part of my job I read a lot of books (I love to read anyway!).
The books in the Book List Series will cover a range of topics such as social media, product development, marketing, blogging, business, organization, career building, finance, networking, writing, self development, and inspiration.
'I'm at a Networking Event, Now What?' by Sandy Jones-Kaminski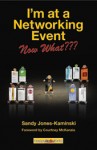 "Networking should be like the holiday season–more about giving than receiving."
Women Entrepreneur book review
About the Book*:
Through this book you will learn how to make quality connections, cultivate relationships, expand your circle of influence through networking events, and create good "social capital." You'll also find information on networking tools and technology that will promote new contacts and connections.
I'm at a Networking Event—Now What??? illustrates that today's social networking environments practically demand that you have at least some knowledge of effective networking practices in order to achieve the results most of us are looking for.
About Sandy*:
Sandy Jones-Kaminski is a self-described networking enthusiast and accomplished marketer and business development professional. In 2002, Sandy launched her own online marketing and biz dev strategy consulting practice called Bella Domain, LLC. She is also a former VP of Networking for one of the largest chapters of the American Marketing Association. Sandy knows how to make meaningful connections, cultivate relationships, host some great networking events, and create what she refers to as good "social capital." You can connect with her at www.belladomain.com.
You can purchase a copy of 'I'm at a Networking Event, Now What?' online at Amazon or on the publisher site. *this information came from Amazon.
Next, I would like to introduce you to another book on the business book list on Amazon and on my reading list: 'The Entrepreneur Equation'.
'The Entrepreneur Equation: Evaluating the Realities, Risks, and Rewards of Having Your Own Business' by Carol Roth
This book came out this week on the new releases (business) list on Amazon.
"Carol delivers the reality check that today's entrepreneur needs to succeed."
—JJ Ramberg, Host of MSNBC's "Your Business" and CEO of Goodsearch.com
"Aspiring entrepreneurs and small business owners alike can generate the best return on their success simply by investing their time reading The Entrepreneur Equation. Written in Carol's frank and fun style, this book gives you the key tools that you need to stack the odds of success in your favor."
—Loral Langemeier, CEO/Founder of Live Out Loud, international speaker and bestselling author of the Millionaire Maker 3 book series and Put More Cash In Your Pocket
"Finally! Someone asks the million dollar question—and then answers it. It isn't about CAN you be an entrepreneur? It is really about—SHOULD you be an entrepreneur? You can spend thousands of dollars and years of your valuable life figuring it out. Or, you can read this book."
—Shama Kabani, Author of The Zen of Social Media Marketing and President of the Marketing Zen Group
About the Book
There's never been a better time to start a business—or so the conventional wisdom would have you believe. But with up to 90 percent of businesses failing within the first five years, it's time to take off the rose-colored glasses and think twice before you invest your precious time, money and energy.

The Entrepreneur Equation helps you do the math before you set down the entrepreneurial path so that you can answer more than just "Could I be an entrepreneur?" but rather "Should I be an entrepreneur?" By understanding what it takes to build a valuable business as well as how to assess the risks and rewards of business ownership based on your personal circumstances, you can learn how to stack the odds of success in your favor and ultimately decide if business ownership is the best possible path for you, now or ever.
Through illustrative examples and personalized exercises, tell-it-like-it-is Carol Roth helps you create and evaluate your own personal Entrepreneur Equation as you:
• Learn what it takes to be a successful entrepreneur in today's competitive environment
• Save money, time and effort by avoiding business ownership when the time isn't right for you
• Identify and evaluate the risks and rewards of a new business based on your goals and circumstances
• Evaluate whether your dreams are best served by a hobby, job or business
• Gain the tools that you need to maximize your business success
About Carol*:
Carol Roth helps businesses grow and make more money. An investment banker, business strategist and deal maker, she has helped her clients, ranging from solopreneurs to multinational corporations, raise more than $1 billion in capital, complete $750+ million in M&A transactions, secure high-profile licensing and partnership deals, create brand loyalty programs and more.
Carol is a frequent radio, television and print media contributor on the topics of business and entrepreneurship, having appeared on Fox News, MSNBC, Fox Business, WGN TV Chicago and more. She is also signed to LA-based t.v. production company Snackaholic who is currently developing a television show around Carol's life as a business expert and personality.
Carol Unsolicited Business Advice blog at CarolRoth.com was recently named as one of the Top 10 small business blogs online and Carol is a contributor to a number of other business blogs.
Carol graduated Magna Cum Laude from The Wharton School of Business at the University of Pennsylvania.
*courtesy of book website and/or Amazon
You can purchase a copy of 'The Entrepreneur Equation' at Amazon.