A Weekly Series by Teresa Morrow of Key Business Partners, LLC
I'm Teresa Morrow, Founder of Key Business Partners, LLC and I work with authors & writers to help them with their online book promotion and social media marketing. As part of my job I read a lot of books (I enjoy reading anyway!).
This week I will be highlighting two business books; 'How Reliable is your Product' by Mike Silverman and 'Stop Workplace Drama' by Marlene Chism.
The books I cover in the Social Media Book List Series will cover a range of topics such as social media, marketing, blogging, business, organization, career building, finance, networking, writing, self development, and inspiration.
'How Reliable is your Product: 50 Ways to Improve Produce Reliability'
by Mike Silverman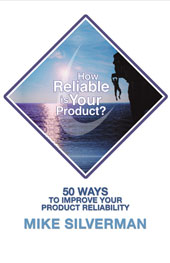 Product developers now have many tools–software and hardware–at their disposal for building reliability in from the get go. From the organizational point of view, what better way to design in reliability than to make designers themselves responsible for the reliability of their designs? As Mike Silverman explains in How Reliable is Your Product?, this is why the role of the reliability engineer is changing to one of mentor. He or she is now responsible for going out and finding the best testing tools and then training the designers on their use, so that designers factor and build in reliability at every stage of product design.
Mike has focused on reliability throughout his 25-year career, and has observed the position of reliability in the organization evolve. In this book, he condenses his expertise and experience into a volume of immense practical worth to the engineering and engineering management communities including designers, manufacturing engineers and reliability/quality engineers.
Among other things, Mike discusses how reliability fits, or should fit, within the product design cycle. He provides a high-level overview of reliability techniques available to engineers today. He lucidly discusses the design of experiments and the role of failure management. With case studies and narratives from personal experience, Mike discusses optimal ways to utilize different reliability techniques. He highlights common errors of judgment, missteps and sub-optimal decisions that are often made within organizations on the path to total reliability.
"'50 Ways to Improve Product Reliability' is a great collection of ground-rules that are based upon experience. It describes a number of situations and presents practical examples of what engineers should do to be successful in the area of reliability. In a few examples it also indicates what should not be
done in order to avoid problems. The book is organized according to the phases of a project and a maturity matrix is presented as a means to measure progress. Many examples show proactive use of reliability tools for hardware and software. All are accompanied by concise case studies showing how to
apply tools and handle common situations. It is a must read for all engineers and managers who are involved with corporate-wide reliability improvement efforts."
James McLinn, CRE, Fellow, ASQ
About Mike*:
Throughout his 25-year career, Mike Silverman has maintained a singular focus on reliability. He is Founder of and Managing Partner at Ops A La Carte, a reliability engineering consultancy that helps customers build end-to-end reliability into their products.
He owns and operates HALT and HASS Labs, a reliability laboratory in Northern California that has now tested over 500 products. A Certified Reliability Engineer with over a dozen technical papers under his belt, Mike is currently President of the Silicon Valley IEEE Reliability Society.
You can purchase a copy of 'How Reliable is your Product' online from the publisher site, Superstar Press. . *I did receive a digital copy of this book from the publisher to help in the promotion of the book.
Next, I would like to introduce you to a book coming out in February 2011 – 'Stop the Workplace Drama'.
'Stop Workplace Drama'
by Marlene Chism
"Stop Workplace Drama offers practical ideas to improve communication in the workplace to eliminate power struggles, backstabbing and office drama."
-Michael Linenberger, author of Master your Workday Now!
"Stop Workplace Drama is filled with fresh strategies to help leader navigate change, reach their objectives and create a positive work climate-all at the same time!
-Jill Konrath, authof o SNAP Selling and Selling to Big Companies

A few words I have to say about this book:
Right off the bat in the introduction, Marlene is great about engaging the reader to explain about what drama is and how most of us (even if we deny it) have drama in our lives. And even if it is personal, it does tend to creep into the workplace.
As Marlene states, "Drama is any obstacle to your peace and prosperity." I say, you can get any more real and to the point than that, right?
She goes onto explain, the drama is the situation, your drama is how you react to it. Again, great precise explanations.
And throughout the book, she put the "mirror" up to the reader and allows each of us to see where we can shed the drama and bring ourselves to a more balanced and peaceful living through, telling yourself the truth, mastering your energy and release resistance.
About the Book*
Is your workplace riddled with gossip, power struggles, and confusion? Do you seek clarity in your management and cohesiveness in your team? Do you have a personal obstacle affecting your professional success?
If so, there is good news-help is on the way. Stop Workplace Drama offers down-to-earth, practical methods to help business owners, entrepreneurs, and private practice professionals maximize success, increase productivity, and improve teamwork and personal performance.
* Identify "drama" barriers and help your employees break free to experience higher personal effectiveness and increased productivity
* Each of the eight points is full of universal and practical principles any business leader, sales director or entrepreneur can put to use immediately
* Author Marlene Chism has shared her signature process with organizations such as McDonalds and NASA
When you're in the thick of business competition, you and your team need to function freely without internal conflicts, confusions, or rivalries. Stop Workplace Drama ensures that your employees will be able to give their best to create a healthy, profitable workplace.
About Marlene*:
Marlene is a speaker, author and communication consultant who works with high level professionals who want to increase personal performance and break through the obstacles keeping them from living a life of passion and purpose. Marlene says, "Everyone has drama and drama manifests in various ways. Marlene's signature process is known as "The Stop Your Drama" Methodology, a system to help companies and individuals align with purpose to achieve higher levels of success both personally and professionally.
You can purchase a copy of 'Stop Workplace Drama' on her website, Stop Workplace Drama or on Amazon.
I truly hope you will check out these books and please comment and let me know your thoughts on them.