When you woke up this morning, did you grab your robe, shuffle to the kitchen, and press the Brew button? (Mine was a Starbucks Verona K-cup.)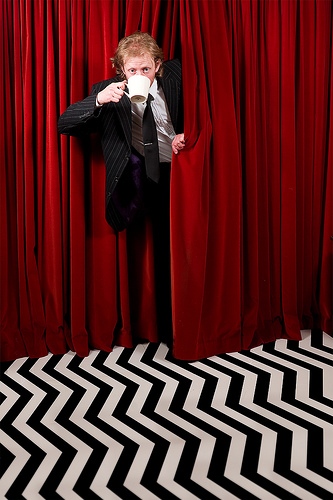 Most people spend their entire lives in that same state of semi-aware robot sameness. They do the same thing every day, say the same things, write the same things, look the same way.
And then they expect something to change.

They're stuck.
My suggestion is: zig when you want to zag.
Have tea tomorrow morning instead of coffee.
Wear an acid green shirt.
Drive a different route to work (or hitch a ride with a colleague).
If you always write about marketing, write a post about neuropsychology or ant farming.
Practice a new response to "how are you?" Instead of "fine, how are you," what if you said, "I'm FANtastic!"
Floss tomorrow.
If you've been afraid to submit a guest post to your favorite blog, just do it.
When you normally would say "no thank you" to something, go for it and say "sure, thanks!"
Go for a full day without typing minimizing words in any emails (like "just" or "sorry").
Have lunch at a place you've never been.
Have you become afraid of talking on the phone? Call three clients out of the blue.
Mail a handwritten thank you note to someone.
If you have a habit of checking email first thing in the morning, wait until noon.
Pick a new habit to incorporate into your routine (listen to this awesome podcast from Michael Hyatt for some help with that).
Choose one task you need to get done, and ask someone for help with it.
Get unstuck. Out of the rut.
Things will change if you change them.

The Successful-Blog community is here to help. What can we help you get unstuck from?
Photo Credit: purplemattfish via Compfight cc