An Ever-Growing Group of Fans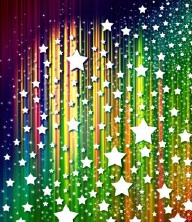 Social media can be an interesting exercise in watching the number of people who click on the button to become followers or fans. Yet you've probably met that fickle group who easily buy in on a whim bo become a friend of that kind.
Sometimes we connect to be around in case we need each other. Not every friendship needs constant maintenance. We make conversational networks of acquaintances. We make large groups of Twitter friends. We know that they not really fans. Some might be around for the longest time without actually listening. Or they might clearly participate for "15 minutes" until something or someone shinier or more interesting happens their way.
It's unreasonable and unrealistic to think that every person would be a lifelong friend. I'm not sure anyone could handle the load if it were possible for a life like that.
But some folks have a way of attracting dear friends and loyal fans. They're the rock stars of whatever world they're working in. They so love what they do and do it so well that they attract an ever-growing group of devotees and fans. These rock stars have three unmistakable traits that make what they offer irresistible.
A Beginner's Mind …


"Design is not just what it looks like and feels like. Design is how it works." –Steve Jobs

Malcolm Gladwell says it takes 10,000 hours to get from good to great. Music, science, acting, cooking, art, architecture, engineering, writing — any domain you might name — has core group of knowledge, insights, and best practices that defines a solid, quality product in that space. A real rock star has the curiosity, takes the time, and puts in the work to saturate his or her mind in finding out how every bit of that works. Until we understand how the notes in the scales or the colors in the palate combine in positive, structural forms, reaching for the creative or the beautiful will be a random attempt to make something that sticks and stays.

A Creator's Heart …


If at first, the idea is not absurd, there is no hope for it. — Albert Einstein

All that learning of the traditional pieces and parts becomes a real rock star's tool kit. Rocks improvise and innovate by making new connections and new relationships. They see opportunities to solve problems, make art, and surprise us with the results because they know their domain well enough to play with it. They don't fear failure or small risks.

A Giver's Outlook …


Do what you love in service to the people who love what you do. — Steve Farber

Rock stars aren't stingy with their talent. They also know that their core group of fans will never include everyone. A jazz musician doesn't try to be a star pitcher in the world series. Rock stars make simple and elegant offerings to the people who value what they do. They don't worry about the folks who want something else.
Knowing, playing, and centering in on the people who thrive on what you do. Those are the keys to an irresistible offer. Every one of us has the power to reach inside to find that rock star potential and make it evident.
Look to the ideas, the topic, the thing that you can't NOT do. Learn everything you can about it. Go deep and wide learning and experimenting with combination and creations just to see what happens. Then have fun showing other folks how you can use what you love to solve problems for them.
Have you found the irresistible rock star in you?
Make new connections …
–ME "Liz" Strauss
Work with Liz on your business!!