Go Get Yours Now!

Early this year I wrote Cool Kids, Granny Dresses, and Back Channel Intercoms: How Do You Trust People You Can't See? It was the humiliating tale of something that happened at the awful age of 13. It was the problem of trusting people / kids who weren't worth trusting.
I've grown up some since then.
I found people I trust can and we've formed a virbrant efficient community.
Community grows from what we see, what we are, what we imagine together. We learn from and teach each other. That the more we see, the more we find in each other and the more we help each other, we all become more.
Trust is speeds action and lowers cost and fear.
Chris Brogan and Julien Smith talked about that at SOBCon They're the authors of Trust Agents: Using the Web to Build Influence, Improve Reputation, and Earn Trust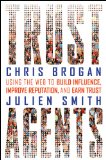 But Chris and Julien weren't there to hawk books. Chris and Julien helped Terry and I built the SOBCon community by speaking, and attending, and sharing with the folks long before the Trust Agents was written.
Who are the trust agents? We all are, especially when we start or inspire new communities. Learn what it means to grow and work with a community of trust agents. This book is head and heart and purpose true to them and true to us so that we and others can use the web more efficiently in business.
Get the book at your favorite supplier: 800 CEO READ (also recommended for bulk orders)
Amazon.com, Amazon.ca (Canada), Barnes & Noble,
Book Depository (UK), Books-A-Million, Borders, Chapters (Canada)
IndieBound
* Yes, there will be a Kindle version.
* Yes, there will be an audio version.
Trust them and me … we're all serious.
Congratulations, Chris and Julien! A visible last laugh of joy to think how far I've come since those granny dresses to a real trust community … to be here with you watching your day!
… and I trust Julien and Chris will never, ever wear a granny dress. except maybe for Karoake…. K?
Buy your copy of Trust Agents: Using the Web to Build Influence, Improve Reputation, and Earn Trust

… this minute!
I trust these connections.
–ME "Liz" Strauss
Work with Liz on your web presence!!